Sequel Bits: 'Space Jam 2,' 'Girl Who Played With Fire,' 'Kick-Ass 2,' 'Bourne Legacy,' 'Hellboy 3,' 'Sin City 2'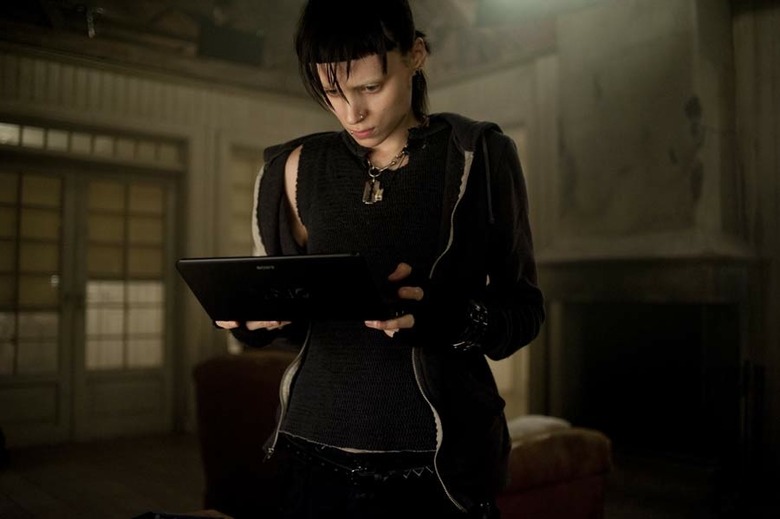 There's so much in this edition of Sequel Bits it's insane. Let's get going. After the jump read about the following:
David Fincher is still figuring out how to make The Girl Who Played With Fire.
Ron Perlman still has no idea when Hellboy 3 might happen.
A new image from Paranormal Activity 4 has been released.
Frank Marshall said "all possibilities are open" if the Bourne franchise continues.
Andy Nyman has been cast as The Tumor in Kick-Ass 2.
Indiana Jones and the Kingdom of the Crystal Skull was voted the most disappointing film of all time.
NBA superstar LeBron James tweeted that he'd love to make Space Jam 2.
Lake Placid: The Final Chapter, starring Robert Englund, premieres next month.
Check out photos of Jessica Alba preparing for Sin City: A Dame To Kill For.
David Fincher hasn't fully committed to a project after releasing last year's The Girl With the Dragon Tattoo. Rumor was 20,000 Leagues Under The Sea would be next but as he's working on the Netflix show House of Cards, he still seems to be considering the Dragon Tattoo sequel The Girl Who Played With Fire. In an interview with The Art of the Title (via The Playlist) he said the following:
Well, [I'm] trying to figure out a sequel to 'Dragon Tattoo.' We've got to be able to make it our own thing.
At Comic-Con, Guillermo Del Toro said that based on the success of Ron Perlman's Make-A-Wish Hellboy appearance, he'd soon start looking for funding for Hellboy 3. However, star Ron Perlman said that's as much as he knows at the moment. Here's his quote from MTV.
The only thing that I heard was when I was sitting next to him, when he spontaneously made the announcement that he was going to start actively searching for the funding for the film. And he's been very busy in post-production since Comic-Con. I haven't seen or spoken to him, so I only know as much as you guys. If I have a scoop, I'll give you a call!
Paranormal Activity 4 is fast approaching and Paramount has released a new image from the October 19 film. It features Kathryn Newton as a teen girl who lives next door to a very, very screwed up family. Seems she has a visitor.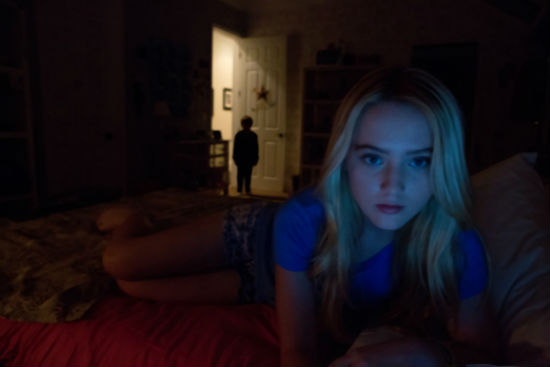 Legendary producer Frank Marshall did an interview with IFC discussing the intricacies of The Bourne Legacy so, if you were at all confused about what's going on behind the scenes, it's a must-read. He also said that further films – if they happen – would continue to expand the universe but that it's not clear if it'll be focused on Matt Damon's Jason Bourne, Jeremy Renner's Aaron Cross or someone else:
We don't know at this point if we'll continue to focus on [Jason Bourne or Aaron Cross], or just get this world right so we can go in any direction. All possibilities are open.
Kick-Ass 2 is shooting very soon but casting is still happening. Andy Nyman posted on his website (via Superhero Hype) that he'll appear as one of Red Mist's henchman, named The Tumor. Nyman is a well-known British character actor who appeared in The Brothers Bloom, Death at a Funeral and other films.
Total Film did a really fun feature, compiling the 50 Most Disappointing Movies of All-Time. Some of the biggest movies of all time, mostly sequels, make up the list and Indiana Jones and the Kingdom of the Crystal Skull was voted number one. Star Wars Episode I: The Phantom Menace, Spider-Man 3, Godfather Part III and others are all on the list.
RT @parletoo: @kingjames do you love space Jam ?(I love that movie. Wish I could do Space Jam 2!)

— LeBron James (@KingJames) August 26, 2012
The Film Stage pointed out the above tweet by NBA superstar LeBron James, expressing an interested in shooing a sequel to Space Jam. The recent NBA Champion, MVP and Gold Medalist is one of the few international superstars on par with Michael Jordan and though there's no sequel to Space Jam in the works, James has been trying to do a little more acting and his desire to make this movie might light a fire under the executives at Warner Bros. I know I'd love to see it. MJ could cameo, it would be awesome.
Apparently, 1999 killer croc film Lake Placid has spawned not just one sequel, but two. Who knew? They were both direct-to-TV SyFy movies and now, a fourth film in the franchise promises to be The Final Chapter. Lake Placid: The Final Chapter will premiere September 29 on SyFy and features a man very familiar with horror sequels: Robert Englund. Read more about the film at Shock Till Ya Drop.
Jessica Alba is a twitter machine and she recently took to the social network (via ScreenCrush) to show that she's in full Nancy takeover mode for Robert Rodriguez's Sin City: A Dame To Kill For. Here's just one of the images.