International 'Django Unchained' Trailer Features Small Glimpses Of New Footage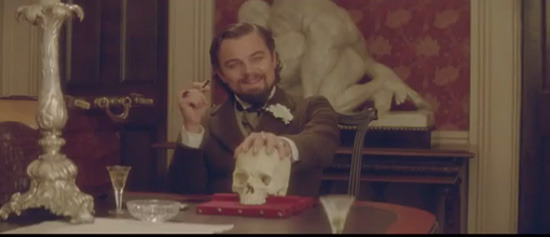 Quentin Tarantino's new film Django Unchained doesn't open until Christmas Day, but we've seen a few trailers already, and this new Latin American trailer has a bit of footage that most audience haven't seen yet. That makes it worth a look for pretty much everyone. Check out that new stuff from Tarantino's revenge "Southern," starring Jamie Foxx, Christoph Waltz, Leonardo DiCaprio, and Kerry Washington, below.
The production of Django Unchained has been interesting, with quite a few big names attached to small roles eventually bailing. Joseph Gordon-Levitt quit to make his directorial debut, while Kevin Costner, Sacha Baron Cohen, and Kurt Russell were all set before moving on for various reasons. Some of their roles were changed, others seemingly cut altogether.
Anthony LaPaglia was also set for a role, and when he walked away because of a commitment to another film, which he had signed to do before Django, there was some animosity. LaPaglia told an
,
For me to pull out of Underground would have hurt it. They'd raised the money partially on me and Rachel Griffiths (being involved). They were about to start shooting and it would have created mayhem and may have shut the film down... The people at Django, their attitude more or less was, 'Just dump the other film', but I couldn't do it out of respect to (director) Rob Connolly, out of respect to the material, out of respect to the commitment I'd made... The (Django) production was just out of control, over-budget. It was everywhere. I had to formally withdraw. They recast it and they still haven't shot anything. I could have said nothing and just hung out I could be there shooting it now.
It's hard to trust everything in that quote, as LaPaglia doesn't seem to evince much respect for the production based on the way he says he was expected to drop his other commitment. But it remains a quote of note, and I'm going to be very curious to see how the final version of Django Unchained differs from the script that very quickly did the rounds when it was first announced last year. [
The Quentin Tarantino Archives
]