Crazy In Blood: First Official Photos Of Chloë Grace Moretz And Julianne Moore In 'Carrie'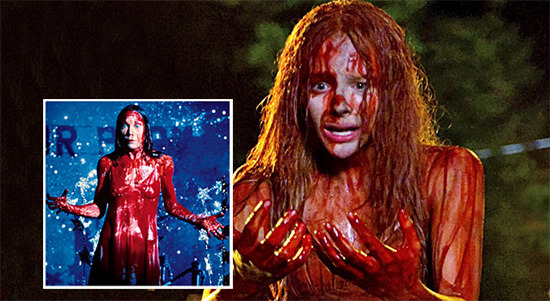 Part of the narrative surrounding the creation of Kimberly Peirce's new adaptation of Stephen King's debut novel Carrie is that the film will hew closer to the novel than did Brian De Palma's classic version, and therefore differ substantially from it. That may end up being true, and yet the first two official photos from the film highlight the similarities between Peirce's new version and De Palma's original.
Which is to say, here we've got one photo showing Carrie (Chloë Grace Moretz), after being doused in pig blood at the climax of her first prom experience, which is also the beginning of the story's violent explosion of repressed young sexuality and frustration. The other shows Julianne Moore as Carrie's rigidly religious mother, who acts as the girl's primary repressor. See both images in full below.
EW provides the pics, and even did a layout presenting them in comparison with stills from De Palma's film, as if to highlight just how similar things look. The shot of Carrie seems to be from very near the end of the film, since she's obviously post-prom.
To some extent, the images King conjured up in his novel are so specific and so iconic, that there are bound to be visual similarities between this film and the original, no matter how much distance anyone tries to establish. And the script for this version (by Roberto Aguirre-Sacasa) is said to be more character-oriented than the original. Indeed, Moore describes her character to EW, saying,
This woman has clearly had a psychotic break, perhaps several... But what's sad about it for me is that she's clearly sick and here's this poor child in the thrall of this person who is seriously ill. And on top of that, they have this mother-daughter relationship. So we want to make that relationship as meaningful as possible, even though it is horrible and destructive.
Carrie opens on March 15, 2013.
The quiet suburb of Chamberlain, Maine is home to the deeply religious and conservative Margaret White (Moore) and her daughter Carrie (Moretz). Carrie is a sweet but meek outcast whom Margaret has sheltered from society. Gym teacher Miss Desjardin (Greer) tries in vain to protect Carrie from local mean girls led by the popular and haughty Chris Hargenson (Portia Doubleday), but only Chris' best friend, Sue Snell (Gabriella Wilde), regrets their actions. In an effort to make amends, Sue asks her boyfriend, high school heartthrob Tommy Ross (Ansel Elgort), to take Carrie to prom. Pushed to the limit by her peers at the dance, Carrie unleashes telekinetic havoc. Brian De Palma's 1976 film version of "Carrie" earned Oscar nominations for stars Sissy Spacek and Piper Laurie.