Cool Stuff: A Recipe For The Mouthwatering Prison Dinner From 'Goodfellas'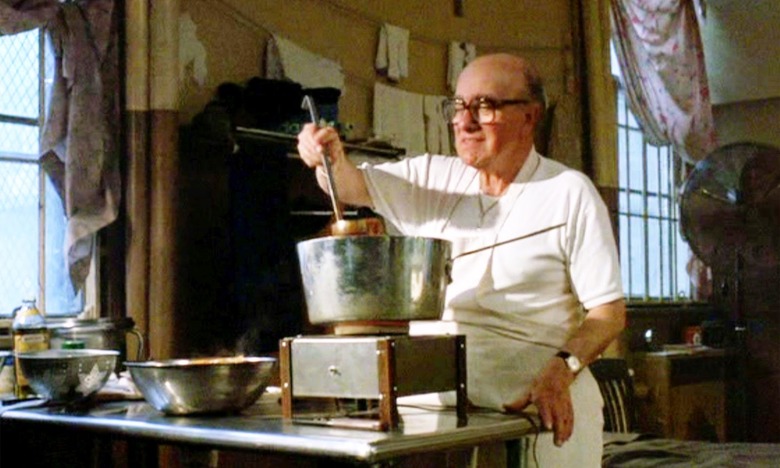 Like all the greatest classics, Martin Scorsese's Goodfellas leaves audiences dazzled by its style, wowed by its acting, moved by its storytelling, and provoked by its ideas. If you have a taste for Italian food, it may also leave you pretty hungry. One of the most famous sequences follows Henry and his mob colleagues whipping up a truly mouthwatering feast in prison. Paulie leads the preparations, of course, slicing garlic into nearly translucent pieces with his razor blade and keeping an eye on Vinnie so he doesn't put too many onions in the sauce.
Fortunately for you, if you're watching the movie at home, you can actually do something about your grumbling stomach. Although Henry doesn't spend much time spelling out the measurements, Cotswold House Hotel head chef Dave Watts has put together a recipe that approximates the one we see in the movie. And yes, there's plenty of pork — as Vinnie can tell you, that's the flavor. Get the details and revisit the scene after the jump.
You'll need the following ingredients; head to the site for step-by-step directions.
6 onions peeled and finely diced
75g Cotswold gold rapeseed oil or olive oil
A teaspoon of salt
300g minced beef
300g minced pork shoulder
300g diced English rose veal flank
30g Cotswold gold rapeseed oil or olive oil
250g beef or brown chicken stock
10 cloves garlic peeled
100ml white wine
150g tomato puree
750g ripe vine tomatoes (chopped) or equivalent weight of quality chopped tinned tomatoes
A pinch of salt
Good grind of black pepper
And once it's all done, Watts has a suggestion on how to serve it:
Just like the guys in Goodfellas, I like to serve this with a char grilled 34 day aged hanger steak cooked medium rare, a bottle of Chianti and good crunchy country bread ( to soak up all those wonderful juices and flavours).
If you're unsure of whether the time and effort involved is worth it, maybe revisiting the clip below will whet your appetite: