'Clueless' Director Amy Heckerling's 'Vamps' Heading To DVD And Blu-Ray In November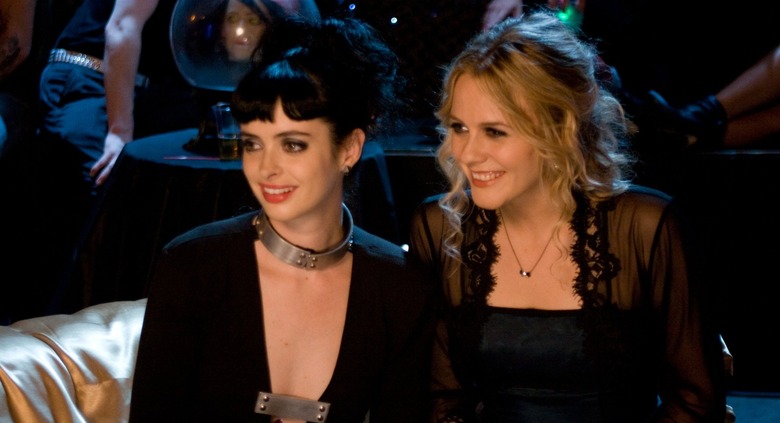 The last time we saw Amy Heckerling and Alicia Silverstone team up was for Clueless, a critical and commercial hit that launched the young actress to international fame. It's an endlessly quotable teen classic that still holds up today, not to mention one of the freshest Jane Austen adaptations ever to hit the big screen.
Seventeen years later, the duo have reunited for Vamps, a cheeky take on the paranormal romance trend. The film's been kicking around for a while — we first heard rumblings of it in 2009, and saw a batch of publicity stills last summer — and this fall, we'll finally get to see the finished product. Don't expect this one to be a Clueless-sized hit, however. It's getting only a limited theatrical run before heading to DVD and Blu-ray a week and a half later. More details after the jump.
Silverstone and Krysten Ritter star as Goody and Stacy, a pair of party-loving bloodsuckers enjoying the good life in the big city. When each unexpectedly falls for an all-too-human man — Goody reunites with an old flame (Richard Lewis), while Stacy is drawn to vampire hunter's son Joey (Dan Stevens, a.k.a. Matthew Crawley) — they must decide between love and immortality. Sigourney Weaver and Wallace Shawn also star.
Heckerling hasn't had the best luck over the past decade or so. 2000's Loser was an unequivocal flop, and 2007's I Could Never Be Your Woman went straight to DVD. (Though to be fair, it received decent reviews.) Vamps' low-profile release suggests this won't be the title to turn her career around, which is too bad. I'd love to see the woman who once directed Clueless and Fast Times at Ridgemont High tearing up the box office again.
On the other hand, home video releases are increasingly a popular way to open smaller films that might otherwise get overlooked at the multiplex. Goon and Bachelorette recently found success by employing similar models, for example; the latter became the first pre-theatrical release to hit #1 on iTunes.