'The Office' Closes After One More Season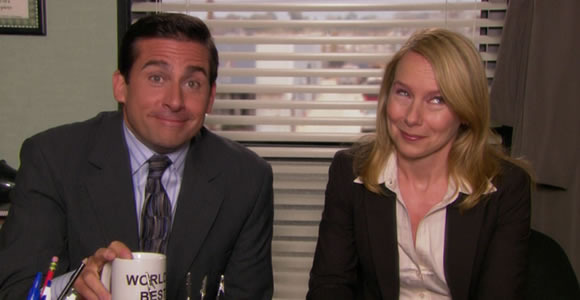 The Office of Dunder Mifflin/Sabre is finally closing. Showrunner Greg Daniels revealed that the upcoming ninth season of the hit NBC sitcom will be its last and that the end date will give the producers a chance to tie everything up nicely:
All questions will be answered this year. We're going to see who is behind the documentary. We're going to meet some of them... and we're going to explore [why they were filming for so long].
Based on the hit BBC show of the same name which launched Ricky Gervais to mega-stardom, The Office remains one of NBC's highest rated shows, even since Steve Carell left the show after the seventh season, being replaced by James Spader. The show helped launch the careers of John Krasinski, Rainn Wilson, Ed Helms, Rashida Jones, Jenna Fischer, Mindy Kaling and others since its inception in 2005. Read more of Daniels' plans after the jump.
Here's the full quote from Daniels as said on a press conference call, reported on by TV Line and EW:
This year feels like the last chance to really go out together and make an artistic ending for the show that pays off a lot of the stuff that matters most to fans. This will be the last season of The Office. And we're planning a very big exciting last season. We're going to have a lot of faces coming back ... There are a lot of things that I've personally been wanting to do since season two ... All questions will be answered this year. We're going to see who's behind the documentary, and we're going to explore [why they were filming for so long] Now that we know we have an end date we can blow things up and take some chances and it will be very freeing, creatively.
You'd expect "the faces coming back" would include Michael Scott (Carell) and Holly Flax (Amy Ryan) who rode off into the sunset at the end of season 7. Daniels said the following on that:
It would be fantastic if [Steve] would return. He loved how [Michael] exited, and is probably anxious about not messing up such a stylish exit. That's a perfectly legitimate point. We'll see....There's so much to pay off after nine seasons of so many great characters. My biggest concern is just packing in these great ideas the writing staff has and making sure we can squeeze as many as we can into the ending.
Though the show is still drawing good numbers for NBC, this past season was the lowest yet and with stars such as Krasinski and Fischer due for raises and Kaling and Wilson moving on, this seems like the logical choice.
I watched every episode of the Carell years but quickly lost interest this past season. I'll likely return this year just to see how it all ends up and the fact that the documentary will, actually, be acknowledged is very exciting.
Do you think it's time for The Office to close? If it's too late, when did it jump the shark?