Terry Gilliam Talks About The Constrained Space And Few Characters Of 'The Zero Theorem'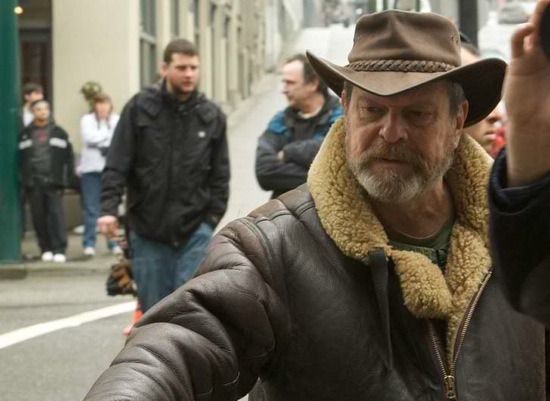 After many delays trying to (re)make the film The Man Who Killed Don Quixote, financing for that project fell through and it seemed that Terry Gilliam was without a next feature project. So we were surprised not long ago when he announced that his next film, The Zero Theorem, is in pre-production and ready to shoot within weeks. Christoph Waltz is set to star as a man named Qohen, who works under the thumb of an organization referred to as Management, and who is trying to find the reason for human existence.
Sounds very Gilliam, and rather dark and heavy. But the director says it isn't quite as overbearing as all that, and explains "it's very funny. That synopsis sounds much darker and broodier than it is." Gilliam compares the film to 12 Monkeys which, sure, is relatively light for Gilliam, but not exactly easy going on the whole.
His comments on the script — in development back in 2009 and thought scrapped since then — aren't limited to that, however. After the break, get the lowdown on how The Zero Theorem is almost a one-room show, and what else it has to offer.
Let's get the official word about the film from Terry Gilliam first, as he posted info to Facebook:
Announcement! I'm heading of to Bucharest to start work on my new film, The Zero Theorem. It stars everybody's favorite Nazi, the great Christoph Waltz. Very original script about a man waiting for a telephone call that will give meaning to his life. Some other things happen as well. It's profound and funny in more or less equal measures. We're going to have fun. I'll keep you posted as the cast expands.
And here's the early plot description that Gilliam was referencing:
Living in an Orwellian corporate world where "mancams" serve as the eyes of a shadowy figure known only as Management, Leth (Waltz) works on a solution to the strange theorem while living as a virtual cloistered monk in his home—the shattered interior of a fire-damaged chapel. His isolation and work are interrupted now and then by surprise visits from Bainsley, a flamboyantly lusty love interest who tempts him with "tantric biotelemetric interfacing" (virtual sex) and Bob. Latter is the rebellious whiz-kid teenage son of Management who, with a combination of insult-comedy and an evolving true friendship, spurs on Qohen's efforts at solving the theorem.
Now for the new stuff. In an interview with fansite Dreams (via The Playlist), Gilliam explains a bit of what's really going on in the story:
The main character is literally living in this burnt-out chapel which one could take as a metaphor for old beliefs and old systems. He's a computer genius but he's just sitting there waiting for a phone call, which he's hoping will give meaning to his life....It really is about relationships, and discovering what's really important in life.
Gilliam also says there are only four main characters in the film, and explains that even the space is constrained, as a great deal of the action — the real, physical action, at least — takes place in that chapel mentioned above:
Two-thirds of it — if not more — take place in a ruined chapel. The interesting thing about it is because it takes place in this one place, this chapel — that's going to be the challenge, because I have never shot like that before, in that limited space. So to keep it interesting is what I'm going to have to master. The acting is crucial to it — there is no car chase nor a shootout — none of those things you can fall back upon to keep the film going. It's about the acting and that is why Christoph is so incredible.
And never one to play it safe, Gilliam talks about the fact that the script calls for some nudity on the part of at least one actor:
There is a bit of nudity in the script, whether it will be that nude in the film I don't know. When you've got people flying around through space, sucked into black holes naked... that can be very difficult to do.