Sequel Bits: 'Avengers 2', 'Iron Man 3', 'Dumb And Dumber 2', 'Machete Kills', 'Fast Six', 'Evil Dead', 'The Hobbit'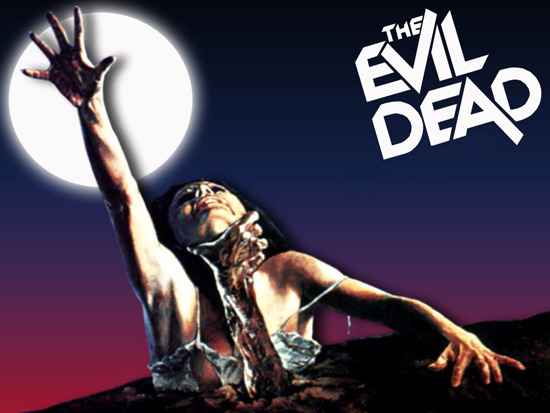 With the exception of Machete Kills, which is a sequel to 2010 film, everything in today's Sequel Bits is pretty old school, featuring characters or properties that have been around at least a decade. After the jump:
Joss Whedon talks a little bit about The Avengers 2
Bruce Campbell says the new Evil Dead is "fabulous"
Production resumes on Iron Man 3 after RDJ's injury
Benedict Cumberbatch reveals when we'll see Smaug
Bobby Farrelly spills Dumb and Dumber 2 plot details
Marko Zaror joins Machete Kills, see his character poster
See Paul Walker and Vin Diesel on the Fast Six set
Joss Whedon's given an interview to Gizmodo Japan in which he talks about his role in the Avengers universe going forward — as we learned earlier this month, he's signed on to direct Avengers 2 and to help develop the live-action Marvel TV series. It might offer a bit more insight on how involved he'll be, if you have the patience to sort through the horrible Japanese-to-English translation courtesy of Google.
For example, here he is answering a question (very) roughly translated as "Is that all elements of movies and TV shows that are now in "Avengers 2?"
The advent of these guys (and pointing to a poster of "The Avengers") is conflict. The conflict of characters who are fresh or not, but otherwise, it is their problem with a unique and realistic or not. I knew of their standing position of each character in the story, "The Avengers" series at the same time do not exist elsewhere and not with it. Because there is no need to be able to watch a movie in between who watched "The Avengers" is watched "The Avengers 2".
Read more at Gizmodo Japan (via Comic Book Movie).
This next bit isn't about a sequel, but about Fede Alvarez' recently wrapped Evil Dead remake. But why split hairs?
Bruce Campbell, who starred in Sam Raimi's original Evil Dead, says he has seen Alvarez's take and that it is "definitely fabulous." Don't expect it to be just like the original, however;
There's none of the original characters. We didn't want to compare apples with apples. It's a contemporary movie – just like Evil Dead was contemporary in 1979, this is contemporary for young adults now.
It's basically five new kids who are going to have a really bad night with a brand new director – Fede Alvarez, who was handpicked by Sam Raimi. I've seen it already; I think it's definitely fabulous.
Even with those changes, Campbell expects fans will come to appreciate the new one:
We're really excited and really behind it, [but] it's going to take a bit to get the Evil Dead fans behind it. We know we've pissed a lot of them off. We appreciate that and we appreciate their anger and their zeal, but the only thing we want to impress upon them is that we didn't screw it up. This is going to be just as memorable as [the original] Evil Dead without being the same movie.
You don't want to remake something shot-for-shot. I can't believe they remade Psycho – what the hell kind of a waste of celluloid is that? It's a creative medium.
Read the rest of the interview at Digital Spy. Evil Dead bows April 12, 2013. Jane Levy, Jessica Lucas, Shiloh Fernandez, Elizabeth Blackmore, and Lou Taylor Pucci star. [via CBM]
Shooting on Iron Man 3 appears to picked up again, after going on hiatus last week due to Robert Downey Jr.'s ankle injury. In fact, it's even possible they were back up and running as early as Friday — the day after Downey's mishap was announced.
On Location Vacations caught a casting call that went up Friday indicating that shooting would go on that night. And regardless of whether that evening continued as planned, filming will resume by this Friday (August 24) at the latest. Iron Man 3 is scheduled for a May 3, 2013 release.
The casting of rising Brit star Benedict Cumberbatch as The Hobbit dragon Smaug caught the attention of quite a few fans, but it sounds like J.R.R. Tolkien lovers will have to stay patient a while longer to actually see Cumberbatch in (mo-cap) action.
Asked when Smaug would make his appearance in the films, Cumberbatch responded, "I think my eye might open at the end of the first film and then you'll get the rest of me in the second." Keep in mind that he gave that answer before Jackson confirmed his plan to split The Hobbit into three films instead of just two, so that timetable may have been pushed back even further.
The mostly Cumberbatch-free The Hobbit: An Unexpected Journey opens December 14. [Collider]
It's still not clear when exactly cameras will roll on Dumb and Dumber 2, but co-director Bobby Farrelly's offered a bit of information on what we can expect when they do.
I can tell you that there is no growth out of either one of them and it's 20 years later. What is funny about the original is that they're grown men who are complete losers and when the studio came to us about a sequel, we were like, 'Loads of kids are losers and they're dumb.' We didn't see any value in the sequel so we backed out of it, but now these guys are in regular life and they're still basically children at heart.
The story revolves around the fact that one of them may have sired a child. They want to go and find the child because he's having a kidney problem and he wants to ask him for one of his kidneys.
Farrelly also reaffirmed that the hope is to shoot in the spring, for a Fall 2013 release. Original stars Jeff Daniels and Jim Carrey will reprise their roles. [Digital Spy via The Playlist]
Even the end of shooting can't stop Robert Rodriguez from announcing just one more buzzworthy addition to Machete Kills. Chilean action star Marko Zaror has shot a fight-heavy role as a henchman working for Mel Gibson's villain. The character was created specifically for Zaror, and is even named after him. Although Zaror's not nearly as well known here as he is in his native country, he's got an enthusiastic following among action fans thanks to his work on titles like Mirageman, Kiltro, and Mandrill.
Check out his character poster below: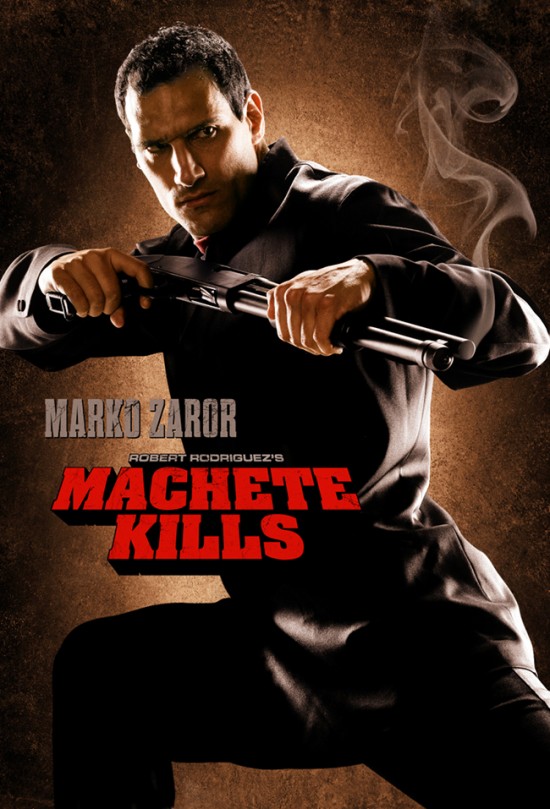 Zaror joins a sprawling cast that also includes Danny Trejo, Michelle Rodriguez, Demián Bichir, Amber Heard, Sofia Vergara, Zoe Saldana, Vanessa Hudgens, Lady Gaga, William Sadler, and many more. Machete Kills will hit theaters next year. [Twitch]
In contrast to the macho posing of the Dwayne Johnson / Gina Carano Fast Six set pic we saw last week, big goofy grins abound in a new photo of stars Vin Diesel and Paul Walker and director Justin Lin at work.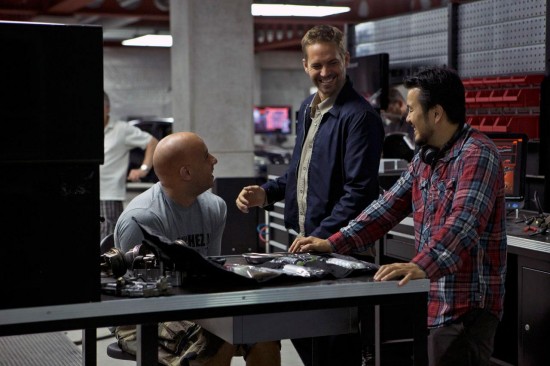 Adorable! Also featuring Jordana Brewster, Michelle Rodriguez, and Luke Evans, Fast Six opens May 24, 2013. [Coming Soon]