The 'Breaking Bad' Art Project Concludes With Ken Taylor's Stunning Addition And A Gallery Show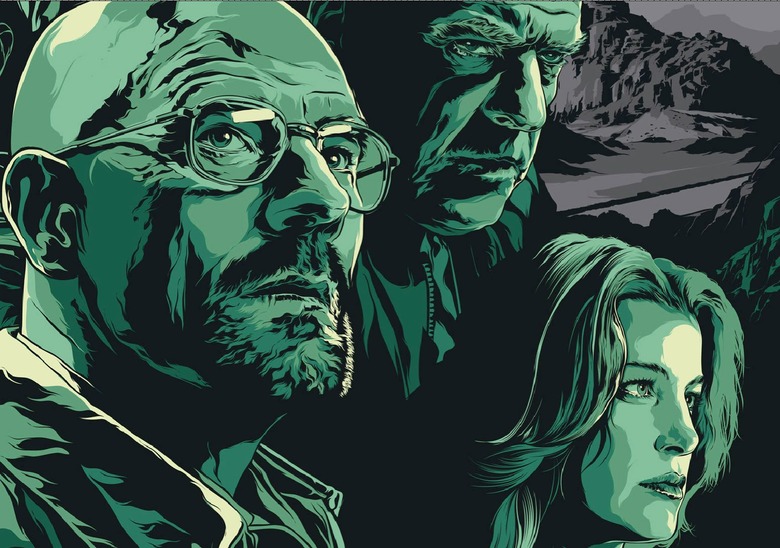 With most things in life, it's expected the best will be saved for last. And with no disrespect meant to the other artists in the Breaking Bad Art Project, that is most certainly the case once again.
After weeks of truly beautiful art, the final poster of the viral campaign run by Gallery 1988 ha been revealed and it's truly stunning. Created by Australian artist and Mondo regular Ken Taylor, it's a mosaic ode to the hit AMC drama featuring most of the show's iconic characters in various states of stress, something viewers have become accustom to over the years. It goes on sale Tuesday and after the jump we've got all the info including where you can see the entire run of posters in person, plus more.
Ken Taylor's Breaking Bad goes on sale sometime Tuesday afternoon PST at www.itsoverweresafe.com. You can also link there from www.breakinggifs.com which has the full run of posters. Here it is.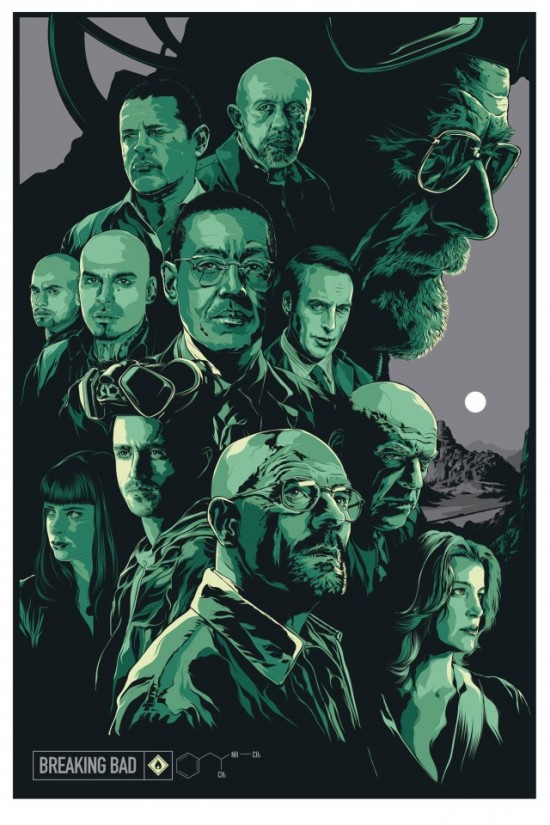 And trust me, it's way better in person. The print is a 24 x 36 inch, 8 color screenprint with metallic silvers in an edition of 300.
With only two episodes left in the first half of the final season, this print marks the end of the Breaking Gifs viral campaign. It all culminated at Gallery 1988 in Los Angeles Monday night with the Breaking Bad Art Project exhibit, which runs through August 26 at the Melrose location, 7020 Melrose Ave. There, they have all 17 posters in their glory, as well as several dozen new works exclusive to the exhibit, but all Breaking Bad. It's fantastic. For more info head to http://g1988.tumblr.com/ or gallery1988.com, where some art is sure to pop up for sale soon.
A big thanks to Sony, AMC, Gallery 1988, Tyson/Givens and all the artists who were a part of this amazing series. Not to mention the people at Breaking Bad who helped inspire such inspiration. Let's do it again next Summer, okay?