Universal Wants Jim Carrey For 'Kick-Ass 2'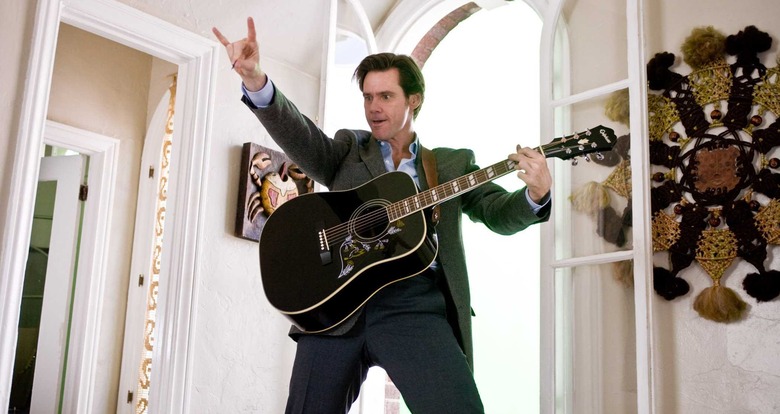 New casting on the Jeff Wadlow-directed Kick-Ass sequel is off to a fine start with John Leguizamo, Donald Faison, Morris Chestnut, and Robert Emms in key roles, but if Universal actually manages to pull off this new deal they're working on it'll be the most attention-grabbing bit of news yet.
The studio is reportedly courting Jim Carrey for a "showy" supporting part in the film, which appears to be going by the title Kick-Ass 2: Balls to the Wall. The potential hiring is not as random as it sounds — Carrey is an avowed fan of the first installment by Matthew Vaughn, and even once donned a Kick-Ass costume for a musical duet with Conan O'Brien. Read more details and check out a photo of Carrey's Kick-Ass cosplay after the jump.
Deadline, who broke the news, stresses Universal has only floated the idea at this point and that Carrey has not yet agreed to take the role. Fan or not, there's a big gulf between Carrey joking around in a replica costume and Carrey actually committing to appear in the film. But let's keep our fingers crossed, because it sounds like an inspired idea. I mean, just check out this photo of Carrey in the famous green-and-yellow spandex suit: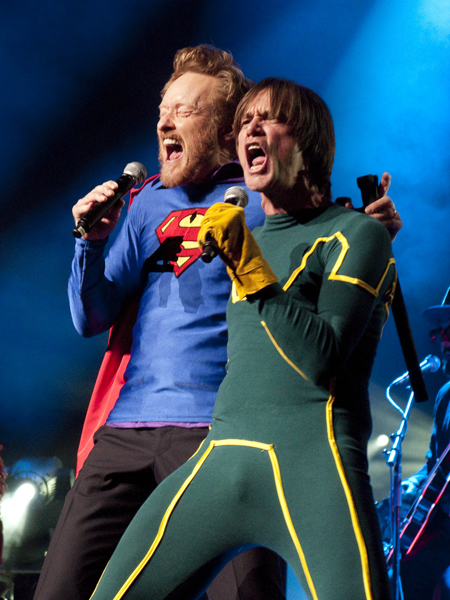 Kick-Ass 2: Balls To The Wall sees Kick-Ass and Justice Forever taking on the supervillain group assembled by Red Mist (Christopher Mintz-Plasse), who changes his moniker to The Mother Fucker. Chloë Moretz and Nicolas Cage are also set to reprise their roles from the first film. The sequel is scheduled to hit theaters June 28, 2013.