Warner Bros. Passes On Ron Howard's Adaptation Of Stephen King's 'The Dark Tower'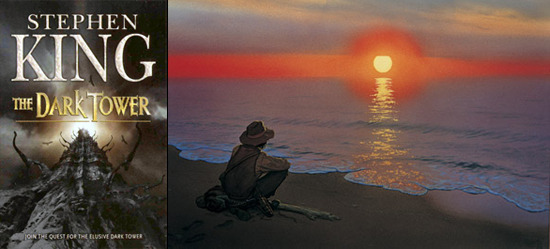 Has The Dark Tower finally fallen? Imagine Entertainment partners Ron Howard and Brian Grazer have been working up a very ambitious three-film and dual-TV series cycle of productions to adapt Stephen King's epic novel series. But last summer Universal decided not to finance the project, and Imagine took The Dark Tower to other studios. In March, Warner Bros. showed interest and for the past months screenwriter Akiva Goldsman has been doing script revisions to make it more budget-conscious.
Goldsman recently delivered his latest draft, and there was the possibility that Russell Crowe would play the lead character Roland "the Gunslinger" Deschain. But now Warners has passed as well, leaving the project with a very uncertain future.
Variety simply reports that WB has "decided not to move forward" with The Dark Tower.
Imagine can once again take the project to other studios, but after Universal and WB had long and ultimately fruitless flirtations with the material, is anyone else going to want to take the very expensive chance on it?
Then there is the question of where the TV component might find a home. When Warner Bros. looked like the best financing and distribution option there was a lot of talk about HBO being the television home for The Dark Tower. But with WB turning away, that could mean that HBO would also not be interested. Regardless, without a feature film component it might not matter at all, unless Imagine decides to go TV-only for the adaptation. That might not be out of the question, but it would be a very different beast.
This is the second high-profile pass from WB in a week — only days ago the studio decided not to make The Imitation Game, the film in development based on the story of pioneering mathematician and computer scientist Alan Turing. At one point WB seemed to be interested in the film as one with prestige potential, with Leonardo DiCaprio mentioned as a possible star. But the film is now out to other studios, with no word of a pickup at this point.