First Look: Forest Whitaker In Lee Daniels' 'The Butler'
It took a couple of years after Precious for director Lee Daniels to get cameras rolling on his follow-up, the lurid Southern melodrama The Paperboy, but he's barely even taking a breather before heading into his next picture. Even as The Paperboy gears up for its theatrical run, Daniels has already started shooting The Butler with Forest Whitaker in the lead as longtime White House servant Eugene Allen.
Although the film's drawn quite a bit of attention in recent months for its star-studded cast, which includes Oprah Winfrey, Robin Williams, John Cusack, Alan Rickman, Terrence Howard, and many, many more, the first official still is a simple one of Whitaker at work. Check it out after the jump.
UPDATE: We now also have photos of James Marsden and Minka Kelly in costume as John F. Kennedy and Jackie Kennedy. See them after the jump.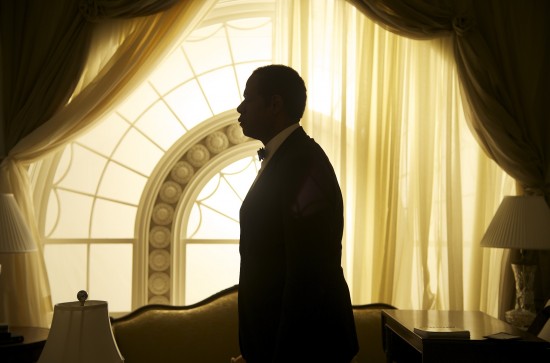 It's a striking image, but it doesn't tell us all that much. Whitaker's face is covered in shadow, so it's tough to see tell what he looks like in character, and the tight shot makes it difficult to get a sense of the set. Mostly, the photo serves to remind us that this movie really is happening.
We expect more eyebrow-raising photos will hit in the weeks to come, however. Allen served under eight different presidents during his stint at 1600 Pennsylvania Avenue, and part of the reason this film's gotten as much buzz as it has is its casting of well-known stars as real-life political figures. Williams and Melissa Leo are Dwight and Mamie Eisenhower, Cusack is Richard Nixon, Rickman is Ronald Reagan, Liev Schreiber is Lyndon B. Johnson, James Marsden and Minka Kelly are JFK and Jackie O, Jane Fonda plays Nancy Reagan, Nelsan Ellis is Martin Luther King, Jr., and so on. We look forward to comparing the actors' looks to their historical inspirations.
Also starring Alex Pettyfer, Lenny Kravitz, Cuba Gooding Jr., Vanessa Redgrave, Jesse Williams, Mariah Carey, and David Oyelowo, The Butler is expected to hit in 2013.  [Variety Showblitz]
No Images