DC Pierson Announces New Novel 'Crap Kingdom'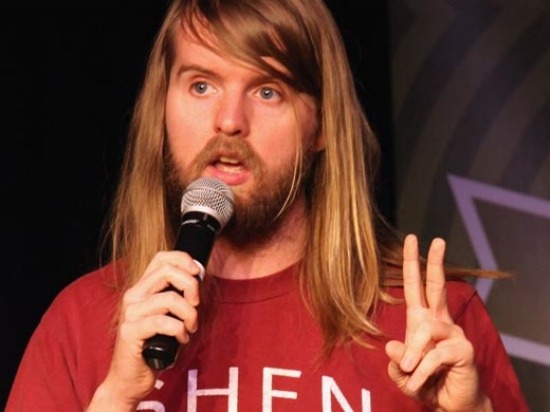 We may receive a commission on purchases made from links.
Derrick Comedy member DC Pierson has given us the opportunity to exclusively announce his next novel Crap Kingdom. Some of you probably know DC from Derrick Comedy's 2009 Sundance film Mystery Team, or you might recognize him from his appearances on Community, a handful of tv commercials or his many appearances at Upright Citizens Brigade in both LA and NYC.
A couple years ago, Vintage published DC's first novel, The Boy Who Couldn't Sleep and Never Had To, a critically acclaimed hilarious high school coming of age story with a small side of mutant creatures from another galaxy. That book is currently being developed into a feature film by Dan Eckman (director of Mystery Team and the Community episode " Digital Exploration of Interior Design" which focused on the blanket fort war and Subway). DC and his novel were recently back in the news due to a funny incident that happened on Yahoo Answers.
DC's new book Crap Kingdom is available for pre-order now. After the jump I have included a letter from DC explaining more about the book and how if you pre-order early, he will write and record a custom rap featuring your name. You can also see the cover art for the new book.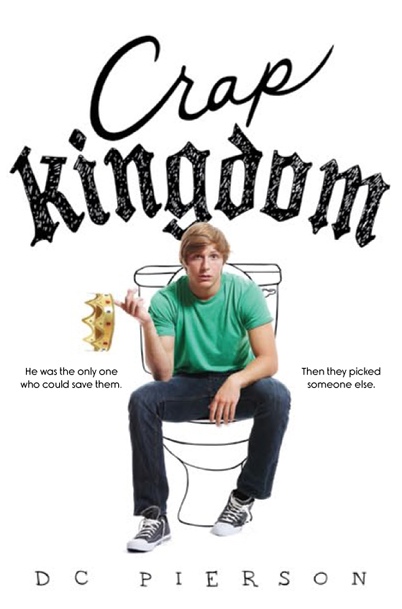 Hey! I'm DC Pierson. You may know me from my comedy group DERRICK, from our movie "Mystery Team," from my first novel The Boy Who Couldn't Sleep And Never Had To, or from the various commercials in which I try and sell you car insurance and/or cereal.
I'm very proud to announce that my next novel, Crap Kingdom, will be coming out in March from Viking. It's a comedic fantasy-adventure that's targeted at young adults but is also meant to be read and enjoyed by actual adults. Also, everyone in between.
Here's a synopsis, but be sure to hang on for an AMAZING SPECIAL ANNOUNCEMENT about an offer I'm making to YOU if you pre-order the book right now.
THE CHOSEN ONE MUST BE RETRIEVED FROM EARTH
HE WILL BRING DOWN THE WALL AND RESTORE THE KINGDOM TO GLORY
HIS NAME IS TOM PARKING
With this mysterious yet oddly ordinary-looking prophecy, Tom's fate is sealed: he's been plucked from his life and whisked away to a magical kingdom to be its Chosen One.
There's just one problem: The kingdom SUCKS.
When Tom turns down the job of Chosen One, he thinks he's making a smart decision. But when Tom discovers he's been replaced by his best friend Kyle, who's always been cooler, more athletic, and better with girls, Tom wants Crap Kingdom back—at any cost. And the hilarity that ensues will determine the fate of the universe.
A SPECIAL ANNOUNCEMENT REGARDING CRAP KINGDOM, IMMORTALITY, AND YOU:
If you PRE-ORDER the book (which you can do right now, this second) I will write your name into a CUSTOM RAP (or CRAP, if you will) that I'll perform, record, and post to my YouTube page. YOU WILL BE IMMORTALIZED FOREVER, BY ME, IN RAP FORM, in a YouTube video you can then share with everyone to show them what a remarkable, book-buying type person you are.
"HOW?" you ask.
Here are the easy steps to pre-ordering and achieving immortality in a CUSTOM RAP:
1. Pre-order the book. You can pre-order it right now from Amazon, from Powell's, if you want to support independent booksellers (http://bit.ly/OlWo2j), or from any other bookseller as long as they will e-mail you a receipt. If you'd prefer to pre-order as an eBook (for Kindle, iPad, or other eReader) that's fine too, as long as you pre-order it now and get an e-mail receipt.
2. Forward the e-mail receipt you receive from the online book retailer to me at CRAPKINGDOM@GMAIL.COM. (Include a pronunciation guide if your name is complicated to pronounce. Include your actual name if your name is different than the one on the receipt.)
3. That's it! Just do it NOW, as this offer is for a limited time only. I'll e-mail you when the custom rap featuring your name goes up.
WHY SHOULD I PRE-ORDER THE BOOK INSTEAD OF BUYING IT WHEN IT COMES OUT?
The more pre-orders the book receives, the more my publisher will see there's interest in the book, the more books I will sell, the more I will be able to spend time writing more books for you to read, and creating other things for you to enjoy. The bottom line is, the amount of cool things I'm able to make, and the pace at which I'm able to make them, is directly proportional to the amount of people who spend actual money on the things I make. I know your money and time are precious and I don't take that lightly.
Plus, on your end, for all your good intentions, you might forget about the book between now and March. If you pre-order NOW, when the book comes out it will show up in your mailbox (or on your eReader) as a fantastic surprise.
Plus...y'know...IMMORTALITY.
For further details/updates/etc. follow me on twitter or read my blog. But more importantly, pre-order the book right this very second, and I will rap your name in a video, and you'll get a book in March, and all will be right with the world.
Thanks so, so much.
DC