Superhero Bits: The Avengers 2, Nemesis, Iron Man 3, Dredd 3D, Dark Knight Returns, Nightwing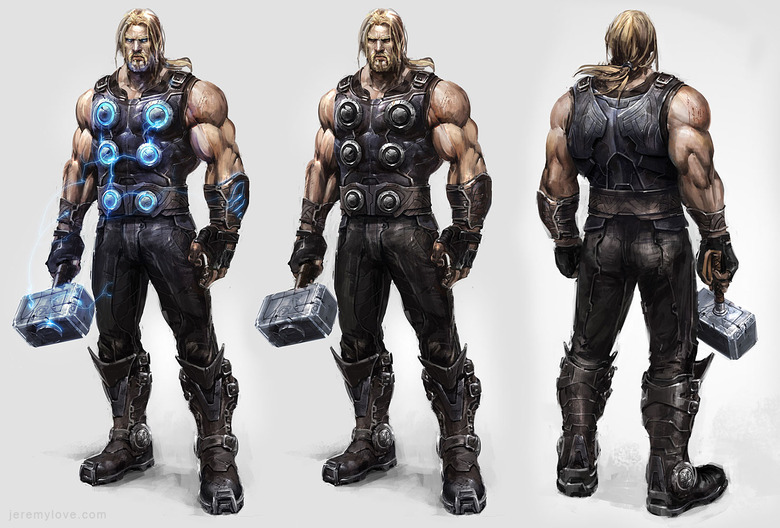 Want to see some behind the scenes images from The Avengers? What does Rebecca Hall have to say about her work in Iron Man 3? How can you see The Dark Knight Returns on the big screen? Are things going bad in an exclusive clip from Dredd 3D? Does Mark Millar have any updates on the Nemesis movie? Has Joss Whedon begun dropping hints on Avengers 2 and what are some possible titles? Read about all this and more in today's Superhero Bits.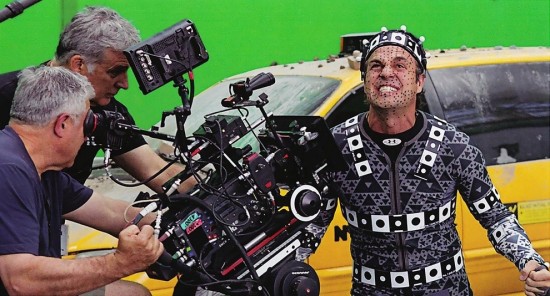 Reddit posted this behind the scenes photo from The Avengers. So awesome.
Gay marriage is certainly a hot-button issue, but what about superhuman marriage? Would that be legal? IO9 investigates.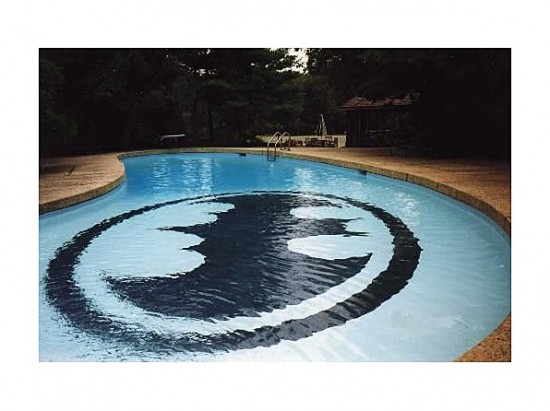 Yahoo (via CBM) posted pics of this epic Batman pool in California.Gizmodo Japan (via Comic Book Movie) spoke to Joss Whedon about The Avengers 2. The translation isn't exactly that great but it sounds like he's got an idea of where things are going.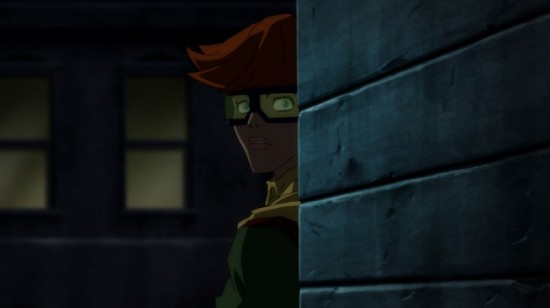 The Dark Knight Returns Part 1 is coming and fans in New York and LA have a chance to see it on the big screen. Superhero Hype has the info as well as new photos, such as the one of Robin, above.Den of Geek has posted a new, exclusive clip from Dredd 3D.Apparition director Todd Lincoln spoke to Shock Till Ya Drop about some superhero projects like Hack/Slash and Danger Girl.
Due to the amount of graphics and images included in Superhero Bits, we have to split this post over THREE pages. Click the link above to continue to the second page of Superhero Bits.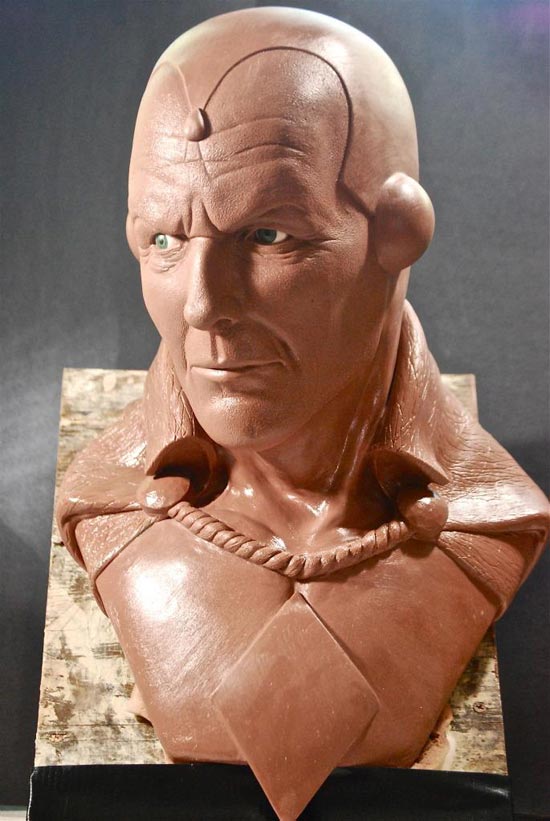 bhsfx (via Blastr) sculpted what Agent Coulson might look like if he returned as Vision in The Avengers 2. Head to CBM to read more.Mark Millar dropped some new info on the movies based on his works The Secret Service and Nemesis, the latter of which he says will still be directed by Joe Carnahan.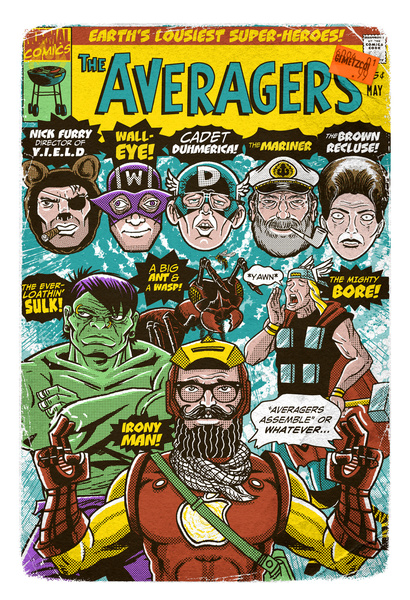 The Averagers by Gimetzco! is a pretty funny art print available in various sizes at Society 6.MTV has some great possible titles for The Avengers 2. My favorite? Serenity. Haha.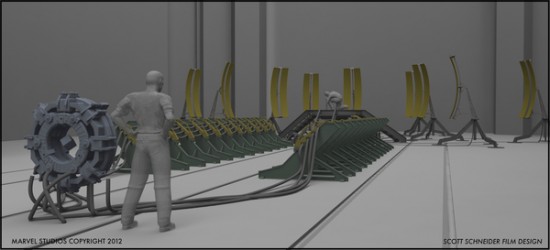 Scott Schneider (via CBM) posted a bunch of Heli-Carrier and Quinjet concept designs from The Avengers.Rebecca Hall talks about working on Iron Man 3 in a discussion with ET Online via CBM. She is scared of letting something slip:
I decided to do Iron Man 3 because I've never done the "Hurry Up And Wait" movie before. Even the studio movies I've done have been small studio movies, or indie films that we made on a wing and a prayer. I love those, but Iron Man is refreshing in a way because it's something out of my realm of experiences.
Comic Book Movie posted this 3D commercial for The Avengers 3D Blu-ray release.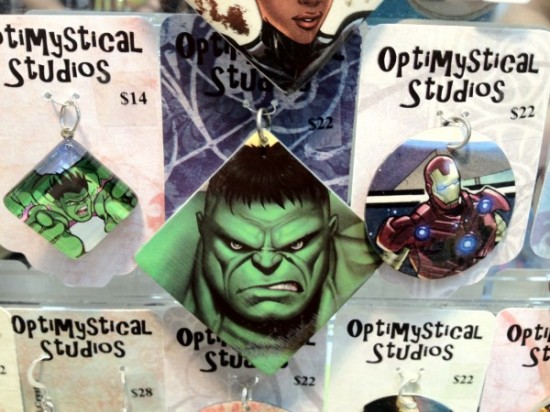 Optimystical Studios (via Fashionably Geek) sells handmade superhero jewelry.The Dark Knight Rises has just become the 15th film of all time to cross $400 million at the domestic box office. Four of the 15 are superhero movies.
Due to the amount of graphics and images included in Superhero Bits, we have to split this post over THREE pages. Click the link above to continue to the third page of Superhero Bits.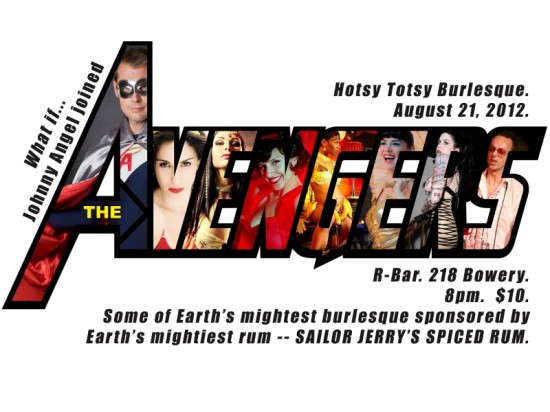 If you're in New York tomorrow night, Hotsy Totsy Burlesque is hosting an Avengers themed night. Read more at Bleeding Cool.
Some people are suckers for lots of cosplay pics. I'm not, but if you are, here are plenty of them from Gen Con 2012 via Fashionably Geek.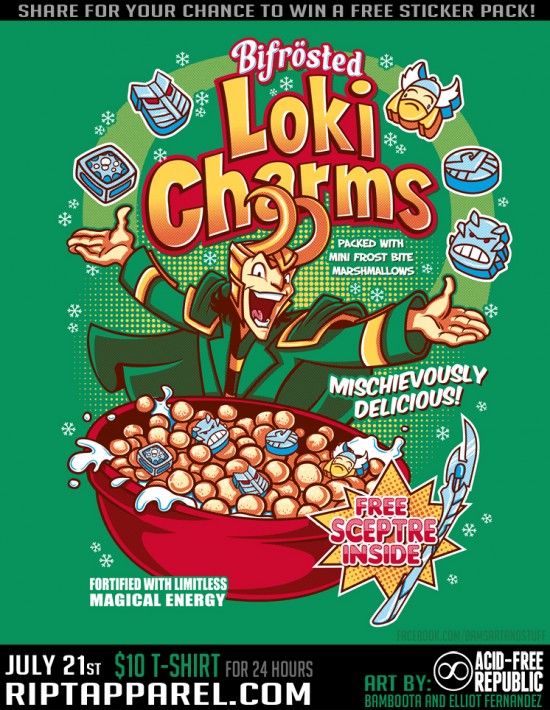 Unfortunately, this t-shirt is long gone. Fortunately, the art is still awesome. Loki Charms by Bamboota on Deviant Art.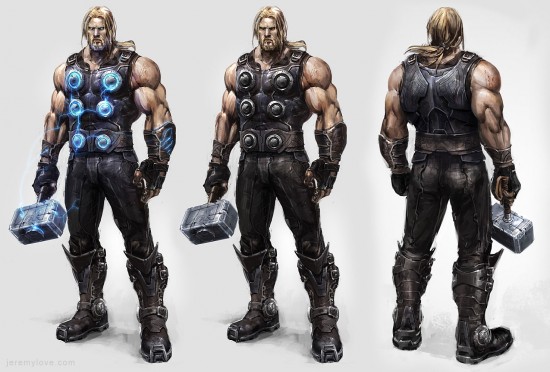 Jeremy Love posted a bunch of concept work from The Avengers video game that never happened. Thanks to CBM.
Watch the above video, because you always wanted dating advice from the cast of The Amazing Spider-Man, via MTV.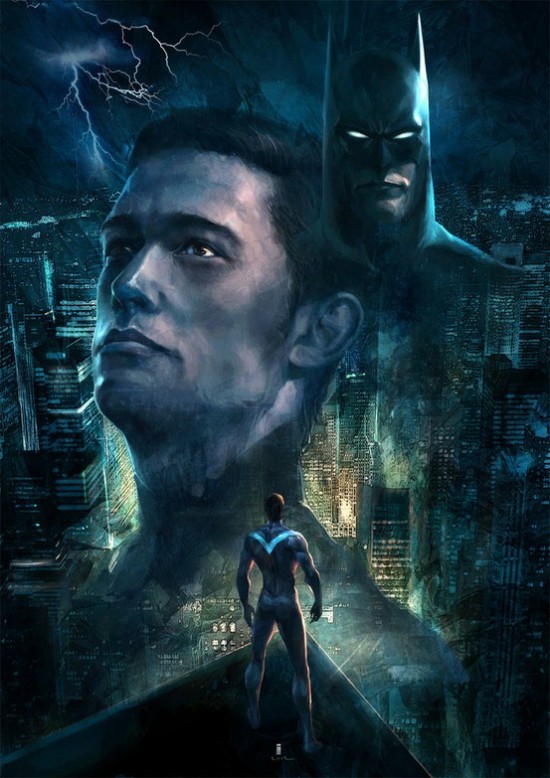 This Dark Knight Rises-inspired Nightwing art, created by ~ivangod and posted on Pinterest, is beautiful.