Sequel Bits: 'Crank 3', 'Iron Man 3', 'SpongeBob SquarePants 2', 'Rio 2', 'Last Exorcism 2', 'Paranormal Activity 4'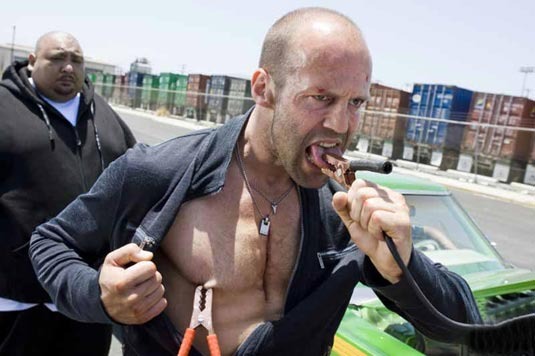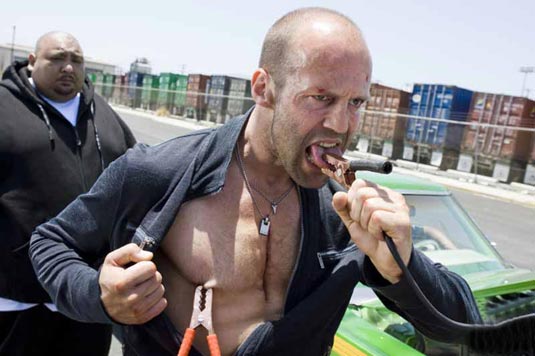 Jason Statham says he'd totally be down to do Crank 3, but the very uncomfortable-looking header image has me wondering why. Also after the jump:
The fearsome matriarch from Winter's Bone joins Iron Man 3
SpongeBob SquarePants 2 hires Kung Fu Panda 2 writers
Jesse Eisenberg looks forward to voicing Blu again for Rio 2
Ashley Bell promises Last Exorcism 2 is "scarier than the first"
Watch a (very) brief new clip from Paranormal Activity 4
"I love those two lads, [directors Mark] Neveldine and [Brian] Taylor," he said. "I haven't seen any scripts or anything for it, but they're a couple that you can't say no to." Asked whether that meant he'd be up for Crank 3, Statham had a quick and enthusiastic response: "Of course!" [Collider]
Winter's Bone actress Dale Dickey has boarded the cast of Iron Man 3, joining Robert Downey Jr., Gwyneth Paltrow, Don Cheadle, Guy Pearce, and Ben Kingsley. Just how her character, identified only as "Mrs. Davis,"will fit into the story remains to be seen, and Dickey is being careful not to spill the beans.
"I'm filming now. That's it," she said. "They asked my agent not to put anything in the trades when I was cast over a month ago, so they are trying to keep as much mystery as possible." Hmm — think she's hiding something juicy, or is this just secrecy for its own sake? Iron Man 3 will open on May 3, 2013. [Comic Book Movie]
SpongeBob and his underwater pals will be back for another big-screen adventure. Paramount is getting a move on with The SpongeBob SquarePants Movie 2, with Jonathan Albel and Glenn Berger (Kung Fu Panda 2) now on board to write the script. Paul Tibbitt, who produced the last film and has directed several episodes of the TV series, is set to helm.
It's been a rather long wait between sequels, as the first SpongeBob SquarePants Movie came out in 2004 and the next won't hit til 2014. But one benefit of working with animated characters is that they don't age nearly as fast, so they have that going for them. [Variety]
After ten years in the business, Jesse Eisenberg is finally getting ready to dip his toe into the wonderful world of sequels with Rio 2. And he sounds pretty happy about it, actually.
Well, we haven't started it yet, but I look forward to it. It's a pretty strange process that you do over the course of a year. I think the new story they have is really cute and funny. They allow me to bring my own sense of humor to it. It's a lot of fun to do, but it's hard to see, at the beginning, what it will be. It's this extremely painstakingly long process. Every blade of grass in Brazil is drawn, so it takes so long to do. It's hard to see what it is, as an actor, because I'm not there for the day-to-day stuff. But, it's really cute and the characters that they've created are so sweet. Tracy Morgan was in the first one, and I don't know if he's in the second one, but it would be nice to be with him again, too.
Eisenberg said he expects things to be a little easier on Rio 2, since he's got a better grasp on doing animated film now:
When I first started recording it, I downplayed it a little bit 'cause that's just my natural instinct. But, when I watched it back with that voice-over, over the course of the several months of recording, I realized that it probably works better, if you don't downplay things too much. Because it's not a visual medium for the actor, you can push it a little bit. You can be a little bigger and do a little more, as an actor. So, I know what I'm doing, a little more.
I'm just wondering if he'll get to do more singing this time around. [Collider]
We don't know a whole lot about The Last Exorcism sequel, rumored to be titled Beginning of the End — The Last Exorcism 2, but star Ashley Bell is happy to tease an even more frightening experience this time around.
"It's all done and scarier than the first one. I don't know how they did it," she said. Of course, she kind of has to say that. Bell reprises her role as poor possessed Nell. [Coming Soon]
Here's another itty-bitty taste of Paranormal Activity 4, or so they claim. For all I know, it could just be a bit of a scene from any of the other Paranormal Activity movies — it's pretty tough to tell when the clip is this short.
Directed by Henry Joost and Ariel Schulman, Paranormal Activity 4 opens October 19. [STYD]