Tom Hanks Producing Indie Ensemble Drama Based Around JFK Assassination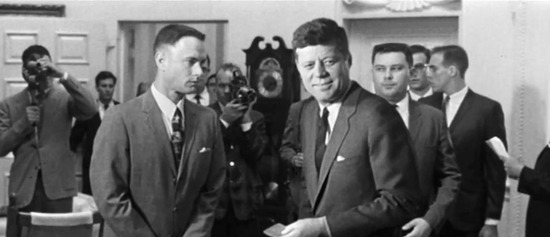 Tom Hanks has had his brush with John F. Kennedy thanks to Forrest Gump, but hasn't just about everyone had a brush with JFK at this point? Oliver Stone's film may be one of the most notable movies to tackle the President and his assassination, but there is no shortage of films that take the life and death of John F. Kennedy as primary or incidental subject matter.
Still, Hanks and his Playtone partner Gary Goetzman are making a new JFK film. They'll produce Parkland, described as an indie drama about the assassination. First-timer Peter Landesman (The Mission screenwriter) will direct.
Variety says the film "chronicles the events leading up to JFK's assassination and Abraham Zapruder's famous documentation of the event" and "an ensemble film that explores the impact the assassination had on a wide range of characters in and around Dallas on that fateful day, including an FBI agent, a young doctor, a reporter, several Secret Service agents, Kennedy's staff, Oswald's older brother, Jackie Kennedy and Zapruder."
The title is taken from the name of the hospital where Kennedy was taken after being shot, and where he was pronounced dead. When Jack Ruby shot Kennedy assassin Lee Harvey Oswald, he also died at Parkland, and Ruby also died at the hospital.
That makes Parkland an interesting trivia point that intersects with JFK's story in several places, and therefore appropriate as the starting point for such a film. Sounds almost Altman-esque, really. And while that is vaguely interesting, I have to say that I've got pretty severe JFK fatigue at this point. Is there really anything new to be gleaned from the events around the assassination at this point? I would hope so, given Playtone's interest, but at this point I can't really guess what it might be.