Supervillain Stars Tom Hardy And Michael Shannon Join Forces For 'The Long Red Road'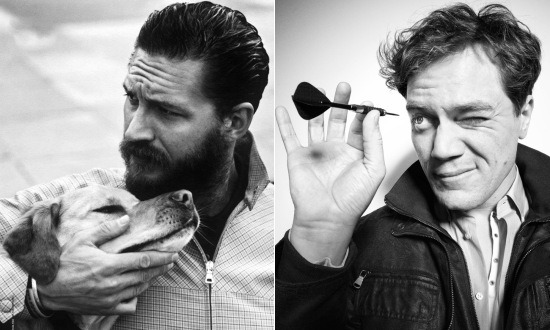 It's well known that Warner Bros. is planning to group together several of its heroes for Justice League, but to see DC baddies Bane and General Zod join forces you'll have to look outside the comic book realm.
Tom Hardy and Michael Shannon are attached to star in The Long Red Road, based on the play by Brett C. Leonard. The role will be a familiar one for Hardy, who previously starred in the original Goodman Theater stage production in Chicago. More details after the jump.
The 2010 debut run of Leonard's drama also had Hardy in the lead, under the direction of Philip Seymour Hoffman. It's unclear whether Hoffman will be involved in the movie adaptation as well, though for what it's worth the director's chair remains empty at this time. The film project will be the first for production company Whipsmart, headed by Hollywood vet Paul Neesan and steel magnate Richard Fant.
After several well-received small- and big-screen roles in the '00s, Hardy broke out into the mainstream with 2010's Inception. This summer's The Dark Knight Rises marked his splashiest role yet. He'll be seen later this month in the Prohibition-era drama Lawless and next year in Mad Max: Fury Road.
Shannon, who's enjoyed an eclectic career over the past two decades, is coming off of an acclaimed lead performance in Jeff Nichols' Take Shelter. He'll continue to jump between indies and studio pics for the foreseeable future, with appearances Nichols' Mud and Zack Snyder's Man of Steel among his next pictures. In addition, he'll return to HBO this fall for the third season of its gangster drama Boardwalk Empire.
[Source: Variety]