Ron Howard Currently Directing Jay-Z Concert Documentary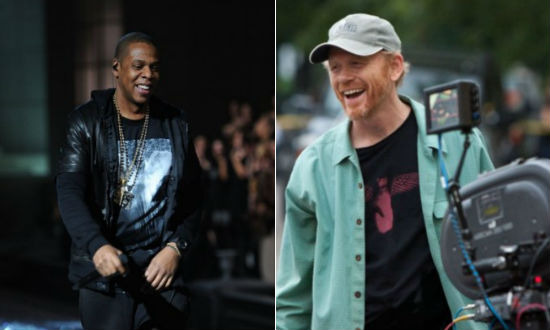 Ron Howard is taking a break from his racing film Rush to follow Jay-Z as he creates a music festival. The rapper/producer is one of the minds behind the Made In America music festival, taking place September 1-2 in Philadelphia, PA and Howard, along with producing partner Brian Grazer, are filming the process for an upcoming documentary. Made in America features acts like Jay himself, Pearl Jam, Skrillex, The Hives, Drake, Jill Scott, D'Angelo and Afrojack but the film will be "born through Jay-Z's perspective ... how he puts the event together," according to Grazer. Read more after the jump.
The New York Post, via Movies.com, reported on the partnership between Jay-Z, Howard and Grazer, who said the following:
The festival showcases 20 pre-eminent artists that speak to the new generation. I am producing the film with Steve Stoute and Jay. Ron is directing. It is going to be born through Jay-Z's perspective...how he puts the event together. Jay stayed the king for a very long time...I can't even begin to explain how he is capable of remaining relevant. He is a phenom, like a musical Michael Jordan.
Since the doc is about how the festival is put together, odds are filming has already taken place leading up to the event itself in a few weeks.
I'm a huge fan of music documentaries, especially concert ones, because it offers a unique and vibrant perspective of a one time event. Plus, seeing a concert documentary on the big screen is the ultimate theatrical experience. Seeing movies like U2 3D or Shine A Light in IMAX were like being on stage with some of the best bands in the world.
Which begs the question, will Howard shoot this in 3D? IMAX? We'll have to wait and see. But a Jay-Z documentary directed by Ron Howard is coming and that's pretty excellent. For more info on the festival, here's the website.