'47 Ronin' Pushed Back Yet Again, To Christmas 2013; New Dates For 'Jurassic Park 3D', 'R.I.P.D.', 'Rush', And More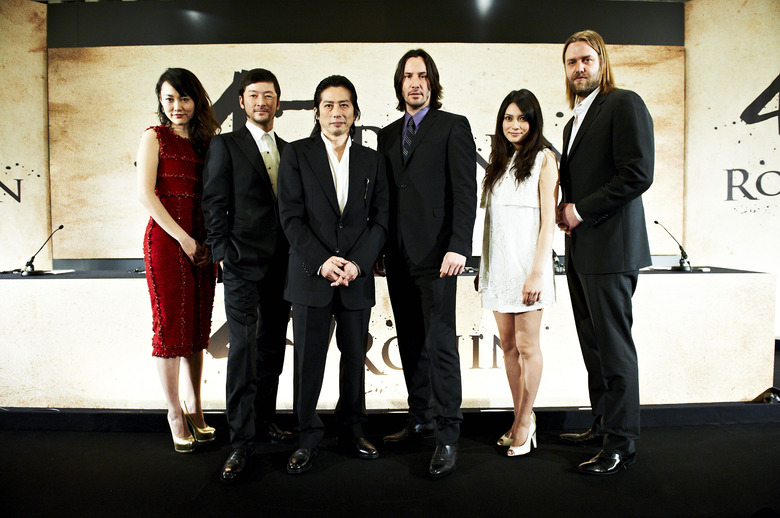 2013 won't even start for another four months, and Universal's already shaking it up. The studio just announced a slew of scheduling changes for next year, some minor and some not so minor.
The most significant shift is the one for Carl Erik Rinsch's 47 Ronin, which you may recall was originally scheduled to open this fall before Universal moved it into February 8, 2013. Now it's moving yet again, to Christmas 2013. It's well known that the 3D samurai epic has suffered its share of behind-the-scenes issues, so the ten-month delay can't help but raise a few eyebrows. On the other hand, studios tend to reserve those ultra-competitive year-end slots for their most promising titles.
Also set for new dates are Jurassic Park 3D, Identity Theft, R.I.P.D., 2 Guns, Oblivion, Rush, and more. Hit the jump for details.
But Universal's first release of the new year will be Mama. Starring the ubiquitous Jessica Chastain and Game of Thrones actor Nikolaj Coster-Waldau, the horror flick has just landed on the calendar on January 18. Coster-Waldau will then appear onscreen again a few months later in Joseph Kosinski's Oblivion, recently moved up from April 26 to April 12.
That same month also marks the opening date for the 3D re-release of Jurassic Park, as it's been bumped up from July 19 to April 5. The prime July 19 date will go instead to the Jeff Bridges / Ryan Reynolds comic book adaptation R.I.P.D., which was previously scheduled for June 28.
Summer also sees the opening of Richard Curtis' time-travel dramedy About Time, which will open May 10. Meanwhile, the season will close out with the Mark Wahlberg thriller 2 Guns on August 16. Rolling into fall, Universal has Ron Howard's Formula 1 biopic Rush bowing September 20.
[Sources: Josh Dickey, Box Office Mojo]