'Snow White And The Huntsman' Sequel Will Actually Be A Huntsman Spin-Off Not Starring Kristen Stewart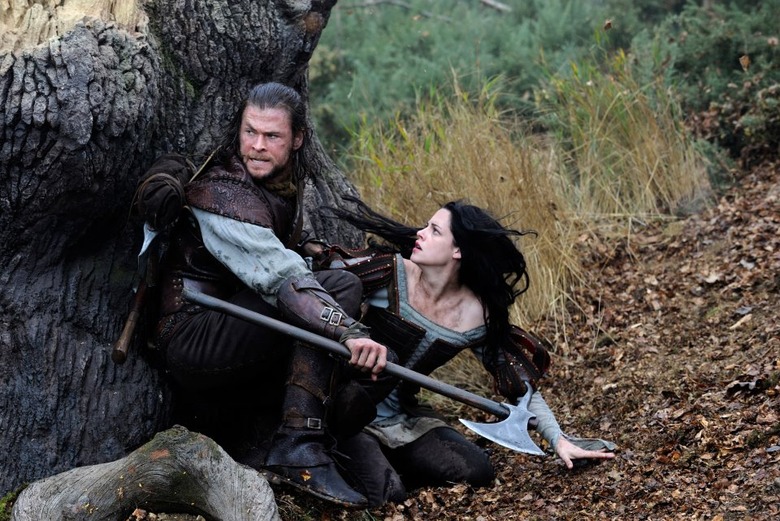 First Universal spun the classic Snow White fable into an action-adventure tentpole pic with equal billing for the Huntsman, and now fairy tale princess is about to get dropped from the equation altogether. Even before Snow White and the Huntsman opened, the studio was lining up plans for a sequel. And as of today, that follow-up is still moving forward — only it's being reconfigured to focus on Chris Hemsworth's Huntsman, cutting Kristen Stewart's Snow White out completely.
While there are undoubtedly a number of factors that have gone into this decision, it's impossible to ignore the fact that the news comes weeks after Stewart was discovered to be having an affair with Snow White and the Huntsman director Rupert Sanders. It's unclear whether Sanders will be returning to the helm for the spin-off. More details after the jump.
The focus on the Huntsman character indicates that Hemsworth is still attached, but THR says in no uncertain terms that Stewart will not be invited back. Scandal or no scandal, it's a surprising move. Not only was Stewart the lead character in the first film, her work in the Twilight movies has made her one of Hollywood's highest-profile actresses. On the plus side for the studio, dropping Stewart should save them a good chunk of cash. She is, after all, one of the highest paid stars in town.
Sanders' involvement remains up in the air. Unlike the stars, who were optioned for two sequels in addition to the first film, Sanders is not obligated to return. After Sanders and Stewart were outed, Sanders' wife Liberty Ross (who played Snow White's mother in the movie) reportedly forbade him from directing the follow-up. Stewart's departure may or may not have changed things.
The first Snow White and the Huntsman performed reasonably well at the box office, grossing a little under $400 million worldwide on a budget of $170 million. Universal is now said to be looking for a new writer, with hopes of shooting next July after Hemsworth finishes Thor 2.