'End Of Watch' Red Band Trailer: Jake Gyllenhaal And Michael Pena Get Dirty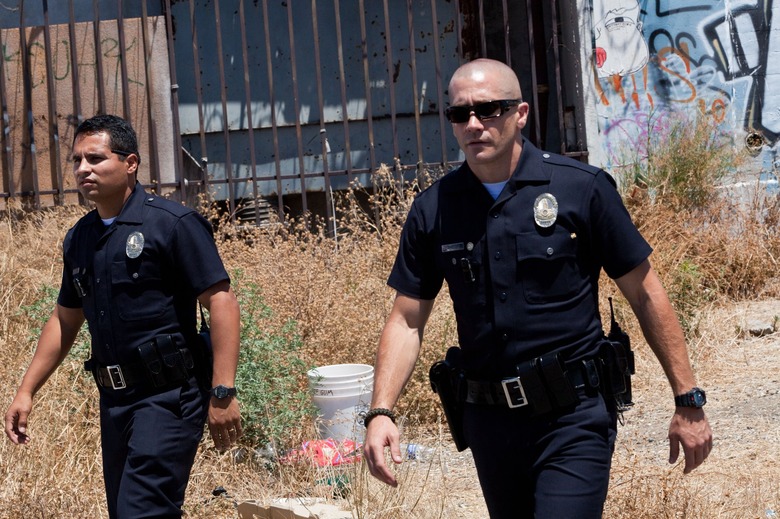 A few months ago, End of Watch wasn't on anyone's radar. One trailer here, a Comic-Con panel there and now the LAPD action drama starring Jake Gyllenhaal, Michael Pena and directed by David Ayer has a ton of positive buzz rolling with it. This latest red band trailer is sure to continue that train as it features brutal language, disturbing violence and a level of intensity rarely enjoyed by films in this genre. Check it out after the jump.
Thanks to Yahoo Movies for the trailer. Beware of some spoilers.
Great trailer. Intense trailer. And it really puts on display the visual style Ayer has used with this movie. At Comic-Con he was quick to point out that's it's not a found footage movie, it's not a traditional narrative, he just decided to use whatever kind of video footage he felt was best to tell the best story. You see a great example of that in this trailer as the cartel members directly address the camera that they're now shooting with. I'm a little worried that jumping between point of views, types of address, visual styles etc. might be a bit off-putting or difficult to follow but, from what I've heard from people who've seen the film, it's not an issue. The film is reportedly really good.
Here's the official plot description of End of Watch. It opens September 21.
A powerful story of family, friendship, love, honor and courage, End Of Watch stars Academy Award® nominee Jake Gyllenhaal and Michael Peña as young police officers Taylor and Zavala as they patrol the city's meanest streets of south central Los Angeles.
Giving the story a gripping, first-person immediacy, the action unfolds through footage from the handheld HD cameras of the police officers, gang members, surveillance cameras, and citizens caught in the line of fire to create a riveting portrait of the city's most dangerous corners, the cops who risk their lives there every day, and the price they and their families are forced to pay.