Disney's 'Aladdin' On Its Way To Broadway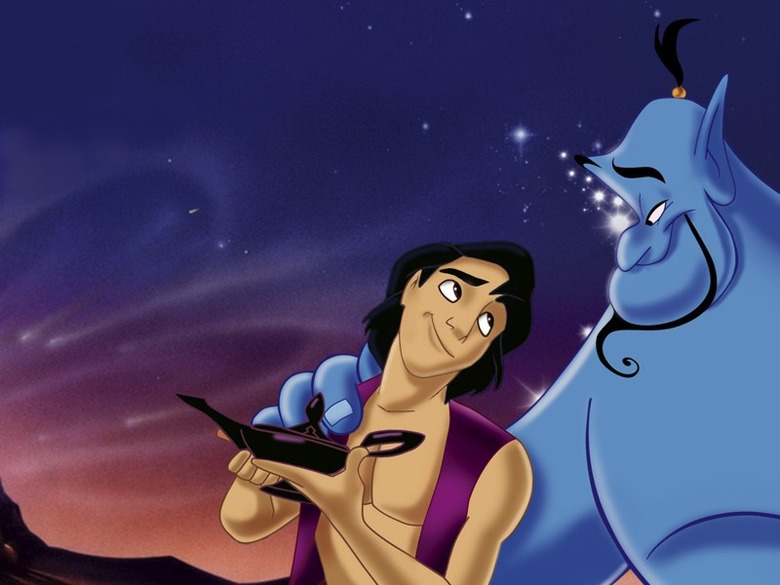 The Disney film to Broadway transition worked for Beauty and the Beast, The Lion King, is currently working for Newsies, and might soon take a carpet ride through Agrabah. At a recent Disneyland performance, songwriter Alan Menkin mentioned that the hit 1992 musical Aladdin might soon be making its way to Broadway. This isn't exactly a huge surprise, however, as a musical version of the show has already been performed in Seattle, St. Louis, and is currently on stage in Utah through October. It features several songs originally cut from the movie and a few minor plot twists as well. Read more about Menken's quote, and the show, after the jump.
Aladdin's possibly journey to Broadway was first reported on by Stitch Kingdom. They report Menkin made the mention Sunday at a Disney Fan Club event called Destination D at the Disneyland Resort where he closed with "Proud of your Boy," a song that was written for the movie, cut, and now resides in the stage musical. Three other new songs are in the show too:  "Call Me A Princess," "Babkak, Omar, Aladdin, Kassim" and "High Adventure." That second song is named after three characters not in the film, but present in the musical, who are Aladdin's friends and serve as a pseudo Greek chorus.
Though it's probably not the most technically advanced or most emotional of Disney's early Nineties classics, Aladdin is my favorite of the bunch. The songs are just so damn catchy that you can't help but feel good. Plus the action blows away the stuff in Beauty and the Beast or The Little Mermaid, two films generally thought of in a higher regard. I feel like that's just what Broadway audiences are looking for in a musical and it sounds like it'll work great.
And if you're in Utah, you can tell us now. The show is playing at the Tuacahn theater in Ivins. Here's a promo:
When do you think this will make it to Broadway? Will you go?