Sequel Bits: 'Bill & Ted 3,' 'Hangover Part III,' 'Kick-Ass 2,' 'Catching Fire,' Linklater's 'Before' Series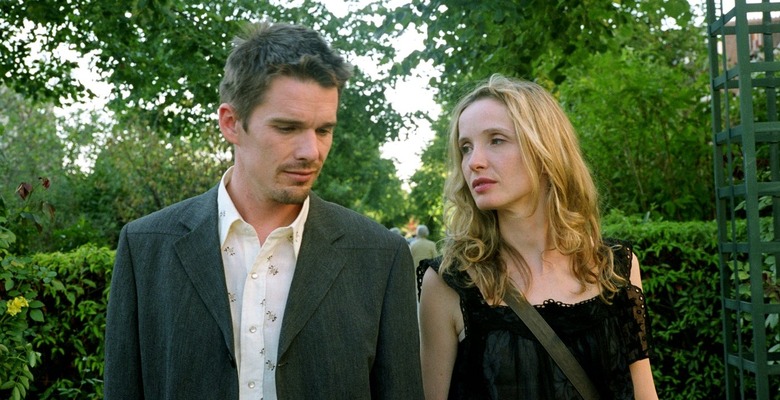 Casting, plot details and rumored start dates are all in this edition of Sequel Bits. After the jump read about the following:
Keanu Reeves lays out the plot of Bill & Ted 3 in a new interview.
Sasha Barrese will return in The Hangover Part III.
Yancy Butler is back for Kick-Ass 2 as mother of Red Mist.
Julie Delpy says a third Before movie is still happen...but not for at least a year.
Tributes Seeder, Chaff and Gloss have been cast in The Hunger Games: Catching Fire.
August 2012 has been a good month so far if you're a Bill & Ted fan. Late last week, it was revealed that director Dean Parisot (Galaxy Quest) was now attached to the long gestating third film in the series, which was written by original Bill & Ted writers Ed Solomon and Chris Matheson. Keanu Reeves has been teasing the plot for a few years but, in a new interview with GQ, he offered up some significant new details:
One of the plot points is that these two people have been crushed by the responsibility of having to write the greatest song ever written and to change the world. And they haven't done it. So everybody is kind of like: "Where is the song?" The guys have just drifted off into esoterica and lost their rock. And we go on this expedition, go into the future to find out if we wrote the song, and one future "us" refuses to tell us, and another future "us" blames us for their lives because we didn't write the song, so they're living this terrible life. In one version we're in jail; in another we're at some kind of highway motel and they hate us.
Variety reports that Sasha Barrese will reprise her role as Stacey, the wife of Doug (Justin Bartha) and sister of Alan (Zach Galifianakis) in The Hangover Part III, directed by Todd Phillips. Pretty much every single person who has appeared in a significant role has been annoucned to come back so, it's safe to assume they'll all return. Barrese's role is pivotal too because she's the one who, in the grand Hangover scheme, Stu tells the group is in trouble. Filming starts soon aimed at a May 24, 2013 release.
Another actress with a supporting role in a successful franchise will also return. Yancy Butler, who briefly appeared as Red Mist's (Christopher Mintz-Plasse) mother in Kick-Ass has signed to return for the sequel, Kick-Ass 2, directed by Jeff Wadlow.  The Hollywood Reporter broke the news on the actress' return, who is best known for starring in Witchblade.
Julie Delpy is out promoting 2 Days in New York, which she directed, and she was asked about a third film in Richard Linklater's Before series, comprised of Before Sunrise and Before Sunset and telsl the story of two people, played by she and Ethan Hawke, who are destined to be together but never can work it out. A third film has been in development for some time and while Hawke thought it might shoot this summer, Delpy told The Playlist next summer is more likely. She is writing it with Linklater and they're still in that process so it could be "sometime in the next year, year and a half." She did hint, however, that the film would be centered on technology. Here's an excerpt from The Playlist article. Head there to read more:
The third film, she said, will have more realistic elements, however, because it will be "rooted in the technology of now." "It would be weird not to include that," she said. "They haven't emailed before, but perhaps if they had, they would have been together and fallen apart by now."
Finally, casting for The Hunger Games: Catching Fire continues at the same pace of the original film. All the principles are coming back, some other major roles have been filled by the likes of Philip Seymour Hoffman, Jena Malone and Amanda Plummer and now three more of the tributes who'll participate in the 75th anniversary of the games have been cast. Cinemablend discovered that E. Roger Mitchell (Battle: Los Angeles, House of Payne) has signed on to play Chaff, a former winner from District 11 and Alan Ritchson is Gloss, a career tribute from District 1. Lionsgate also revealed that Maria Howell (The Blind Side, House of Payne) has been cast as another district 11 victor, Seeder.