First Official Images Of Chris Hemsworth And Daniel Brühl In Ron Howard's 'Rush'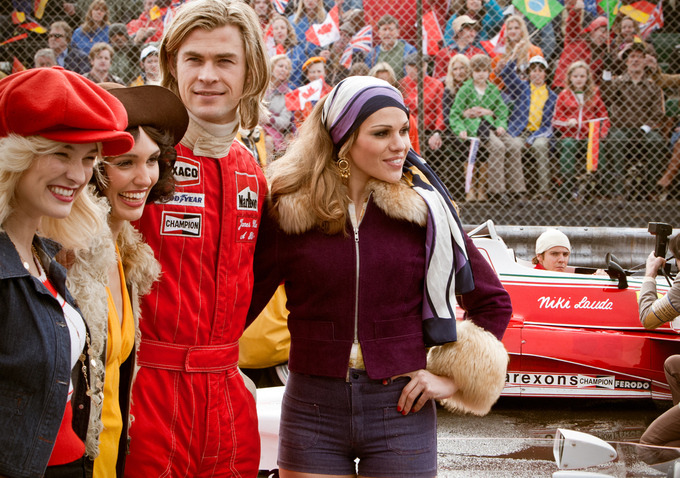 Rush reunites director Ron Howard with his Frost/Nixon screenwriter Peter Morgan (The Queen), to tell the story of real-life racing rivals James Hunt and Niki Lauda, whose competition came to a head during Formula 1 series in the mid-'70s. Chris Hemsworth (Thor, The Cabin in the Woods) plays Hunt and Daniel Brühl (Inglourious Basterds) is Lauda, who nearly died in a terrible crash in 1976, but strapped himself back into the driver's seat only weeks later to challenge Hunt. Also appearing in the movie are Olivia Wilde, Alexandra Maria Lara, Christian McKay, and Natalie Dormer.
We've seen on-set pics from the production, but the still above is one of four images that recently hit the film's official site. Given the fact that the opening date is more than a year away we're not likely to see much footage any time soon, but the official stills give us a fairly good idea of how things look, at the very least.
The film was just set to open on September 20, 2013, which could be just after a TIFF or Venice premiere, and is also squarely set for potential Oscar consideration.
The epic action-drama stars Chris Hemsworth (The Avengers) as the charismatic Englishman James Hunt and Daniel Brühl (Inglourious Basterds) as the disciplined Austrian perfectionist Niki Lauda, whose clashes on the Grand Prix racetrack epitomized the contrast between these two extraordinary characters, a distinction reflected in their private lives. Set against the sexy and glamorous golden age of Formula 1 racing, Rush portrays the exhilarating true story of two of the greatest rivals the world has ever witnessed—handsome English playboy Hunt and his methodical, brilliant opponent, Lauda. Taking us into their personal lives on and off the track, Rush follows the two drivers as they push themselves to the breaking point of physical and psychological endurance, where there is no shortcut to victory and no margin for error. If you make one mistake, you die.
[via The Playlist]