TV Bits: 'Archer', 'Bob's Burgers', 'Community', 'Arrested Development', 'Sons Of Anarchy', 'Boardwalk Empire, 'Homeland', 'The Walking Dead'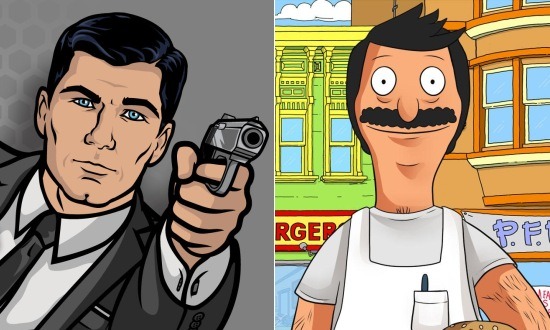 Forget The Bourne Legacy — the Ludlum-inspired story I'm really eager to see is this Bob's Burgers / Archer crossover. Also after the jump:
Dan Harmon has more to say the Community ousting
Bridesmaids' Matt Lucas will teach the Community gang
See Joel McHale tangling with SAMCRO on Sons of Anarchy
Check out the first pics from Season 3 of Boardwalk Empire
Workaholics stars spotted on Arrested Development set
New Homeland poster promises Season 2 will "hit home"
The whole gang hangs out in Walking Dead Season 3 poster
It starts off with Archer as Bob, making hamburgers, but he doesn't know that he's Archer. He's at the restaurant and these, like, I think Russian thugs come in, and Bob dispatches them expertly. And then he's like, What just happened? How did I do that? So he has to try to figure out why he's so good at killing people.
As for how Bob and his wife Linda (voice of John Roberts) will fit into the very different visual style of the Archer universe, Benjamin explains that they'll appear as "Archer-style animations, but with all the accoutrements and characteristics of the [Bob's] characters." No start date for the new season has been announced, but with treats like this in store it can't come soon enough. [EW]
Dan Harmon's never been one to keep his thoughts, feelings, and opinions to himself, and that hasn't changed in the months since his ousting from Community. In a new interview, Harmon offers still more thoughts on how it all went down. On the one hand, he acknowledges, "I would have fired me too." "They're not going to hand the ball to the guy that spent three years losing in the ratings race and not turning a script over until I felt it was finished," he says. On the other, Harmon insists he wouldn't change a thing about the way he did the show.
Well — maybe there is one thing. Harmon revealed that the running joke about Kim being a girl's name in the Season 3 episode "Digital Exploration of Interior Design" was a dig on (male) Sony exec Kim Rozenfeld. Had he known he'd get fired, he said, he might have "made a little more fun of the people I'll never work with again." Head to Vulture to read more.
Meanwhile, Harmon's old show is rolling along into Season 4, and it's even picked up a new oddball for the study group to tangle with come fall. Matt Lucas, of Little Britain and Bridesmaids fame, is set to join Community for a multi-episode guest role. The nature of his character has not been revealed at this time, though an earlier report suggested he could be playing a history professor who used to teach at Oxford. Community will return to NBC on Friday, October 19. [TV Line]
As Lucas descents into Greendale, one of its best and brightest is off to cause trouble in Northern California. Joel McHale will appear in the fifth season of FX's Sons of Anarchy as Warren, "handsome con man who double-crosses the wrong person." Maybe make that persons — Jax (Charlie Hunnam) looks none too pleased with Warren here, and he's got a few other guys to back him up.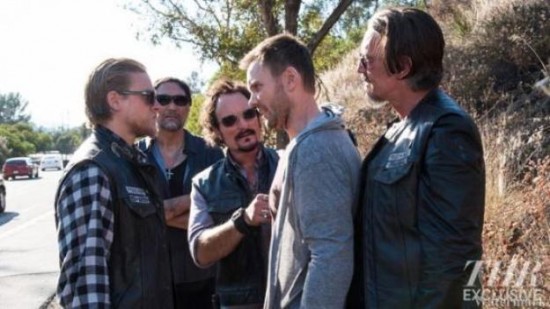 Sons of Anarchy premieres September 11. In addition to McHale, Ashley Tisdale, Harold Perrineau, and Jimmy Smits are also set to appear in Season 5. [via Screen Crush]
Over at HBO, Boardwalk Empire has just dished out a fresh batch of stills from Season 3. Get a good long look at Steve Buscemi, Kelly Macdonald, Michael K. Williams, Jack Huston, Michael Shannon, and series newcomer Bobby Cannavale, and then take your best guesses as to what they'll be up to this fall.
Tune in September 16 for the new season of Boardwalk Empire. [via Screen Crush]
If you think those Boardwalk Empire shots don't give away much, the latest image from the Arrested Development set reveals even less. In fact, not a single core cast member or familiar set is in sight. Instead, we see guest stars Anders Holm and Adam DeVine (both from Comedy Central's Workaholics) working the counter at what appears to be an airport terminal. Jason Bateman tweeted the photo, along with the message "First day. Away we go ..."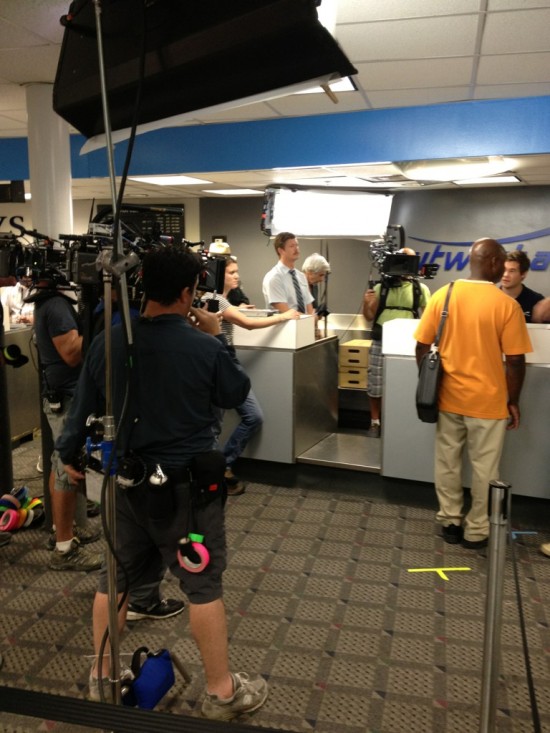 The new ten-episode season of Arrested Development will hit Netflix sometime in 2013. [via Vulture]
Carrie (Clarie Danes) and Brody (Damian Lewis) look ready to face off in the intense new poster for Showtime's Homeland, tagged with the slogan "It hits home."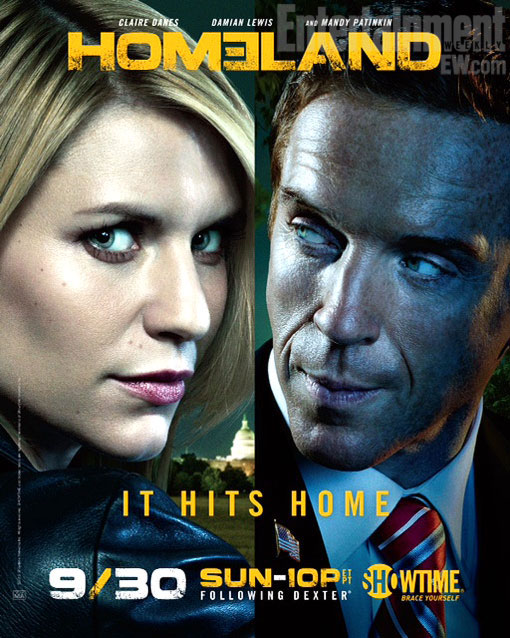 Carrie doesn't look so bad — we've seen her much, much worse — but it's interesting that Brody's tinted so blue he hardly even looks human. Homeland's sophomore season kicks off Sunday, September 30. [EW]
The characters of AMC's The Walking Dead have been through some seriously hellish situations over the past two seasons, and they're looking worse for the wear. A Season 3 poster shows the group arranged in little clusters, looking ready to kill some zombies and even more ready to take some nice hot showers.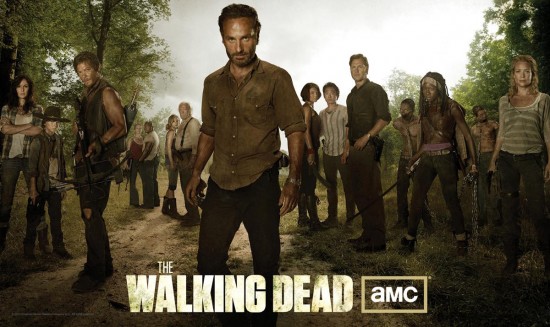 Season 3 of The Walking Dead begins airing Sunday, October 14. [Screen Rant]