Sequel Bits: 'Dumb And Dumber 2', 'American Reunion', 'Scary Movie 5', 'Kick-Ass 2'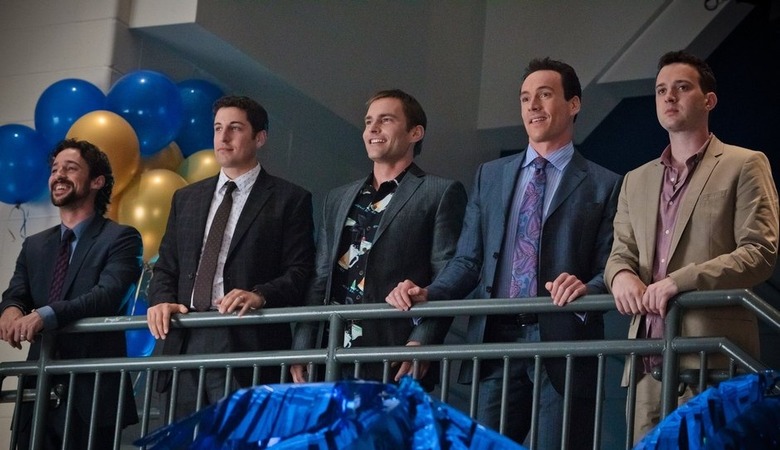 Happy Monday! In today's comedy-heavy edition of Sequel Bits:
Dumb and Dumber 2 could shoot as early as next spring
American Reunion directors will return for the sequel
Charlie Sheen joins Lindsay Lohan in Scary Movie 5
Kick-Ass 2's marketing campaign kicks off with a new logo
Daniels told press at a recent TCA panel that he was still very eager to do the film:
Jim wants to do it. I want to do it. The Farrellys want to do it. They want to rewrite the script a little bit and they aren't trying to jam it in before I have to go back and do 'Newsroom' in November. So they're going, 'Why don't we just do it right? Let's get everybody organized to go next May or June.' If everything works out on the business side, that's what we'll do but I think there's more hope than ever.
The delay may disappoint a few fans, but it's already been eighteen years since the first film was released. At this point, what's a few more months? [Crave via Cinema Blend]
Scary Movie 5 could give Machete Kills a run for its money in the stuntcasting department. Charlie Sheen, who also appeared in Scary Movie 3 and Scary Movie 4, has just signed on for the parody sequel, joining fellow tabloid favorite Lindsay Lohan. Ashley Tisdale and Erica Ash lead the cast of the Malcolm Lee-directed movie, which will parody Black Swan in what E! says will be "a complete reboot" of the franchise. Scary Movie 5 is set to open April 19, 2013. [via Vulture]
American Reunion's tagline was "Save the best piece for last," but the film's strong box-office showing ensured that there was still more Pie to come. Universal had already inked a production deal with Reunion writer/directors Jon Hurwitz and Hayden Schlossberg even before the movie opened in April, and now that Reunion's grossed $233 million worldwide Universal is eager to get the ball rolling.
Reunion marked the fourth theatrical entry in the series (there have also been four direct-to-DVD spinoffs) and the first one since 2003's American Wedding to feature the original cast. [THR]
As Kick-Ass 2 creeps closer to reality, it's firing up a new marketing campaign. Comic book writer Mark Millar tweeted the comic book sequel's official Facebook page over the weekend, and though the link seems to be broken at the moment Bleeding Cool was able to pick up the movie's new logo:

Kick-Ass 2 is expected to shoot this fall with director Jeff Wadlow.