'Nobody Walks' Trailer: Jim Halpert Gets Hot And Heavy With Juno's BFF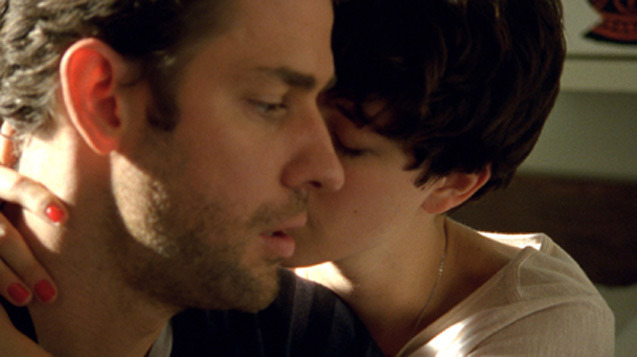 Although he's still known as small-screen sweetheart Jim Halpert on The Office, John Krasinski's also been building up his film resume with about a dozen films in the past five years. Most of them have landed on the lighter end of the comedy-drama spectrum, but his starring turn in the Sundance indie Nobody Walks sees him traveling into somewhat heavier territory.
Krasinski and Rosemarie DeWitt play a married couple whose lives are disrupted when a beautiful acquaintance named Martine (Olivia Thirlby) comes to stay with them in LA. Krasinski's character soon finds himself irresistibly drawn to her, as his wife and teenage stepdaughter (India Ennenga) are dealing with illicit longings and impulses of their own. Nobody Walks is the third feature directed by Ry Russo-Young, who seems to be moving away from her mumblecore roots with this polished picture. Watch the trailer after the jump.
[via The Film Stage]
Head to Apple to watch the sexual tension in HD. If you were wondering, the title Nobody Walks refers to the fact that everyone drives in LA — everyone but Martine, who doesn't have a car.
Aside from the self-indulgent voiceover that shows up at the end of the trailer, Nobody Walks looks more nuanced than the typical relationship drama. The film's gotten mostly positive (though not glowing) reviews since Sundance, with even detractors pointing out Russo-Young's "mature, restrained approach" to the story. A lazier film might vilify the flirty Martine as a ruthless homewrecker, but it sounds like she's actually one of the most complicated characters in this movie. Perhaps that has something to do with the fact that the script was co-written by Girls creator Lena Dunham, who knows a thing or two about flawed young women.
Nobody Walks hits VOD September 6 and theaters October 12.
Synopsis:
Martine, a 23-year-old artist from New York, arrives in Los Angeles to stay in the pool house of a family living in the hip and hilly community of Silver Lake. Peter, the father, has agreed to help Martine complete sound design on her art film as a favor to his wife. Martine innocently enters the seemingly idyllic life of this open-minded family with two kids and a relaxed Southern California vibe. Like a bolt of lightning, her arrival sparks a surge of energy that awakens suppressed impulses in everyone and forces them to confront their own fears and desires.