See Chris Hemsworth, Josh Hutcherson, And Josh Peck In New Stills From The Long-Delayed 'Red Dawn' Remake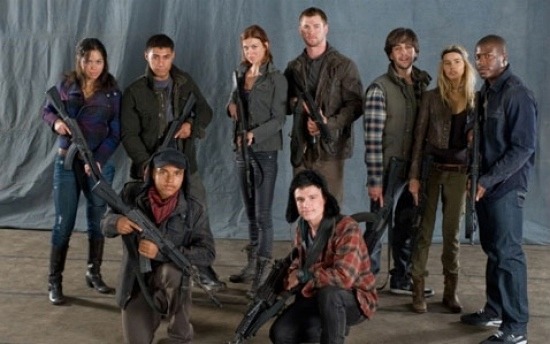 Four years ago, MGM started getting the pieces together for a remake of the 1984 war pic Red Dawn. The expectation was that the movie would come out sometime around 2010, but it then suffered massive setbacks including the studio's financial woes and the realization that demonizing the Chinese isn't cool anymore, now that Asia accounts for a huge chunk of the international box office. It was starting to look like the film might never get a theatrical release at all when FilmDistrict swooped in last fall, setting the shelved flick for a November 2012 release.
With that new opening date creeping closer, the distributor has released two new images from the movie showing stars Chris Hemsworth, Josh Hutcherson, and Josh Peck. Though we've previously gotten a look at the cast in costume and glimpses of the set, these are some of the first official stills to hit the web. Check 'em out after the jump.
Turns out one unexpected benefit of the long delay is the relatively higher profiles of its lead actors. While getting this group together may be a bit trickier nowadays, Red Dawn was cast back before Hemsworth ever alighted upon Asgard, or Hutcherson ever set foot in Panem. In addition to the pictured trio of rising talents, the Red Dawn remake also stars Adrianne Palicki and Isabelle Lucas.
Directed by Dan Bradley, the new Red Dawn will finally hit theaters November 21. Head to USA Today to read the story that originally accompanied these photos, which features some rather adorable quotes from Hutcherson.