'Take Shelter' Director Developing True Science Tale 'The Boy Who Played With Fusion'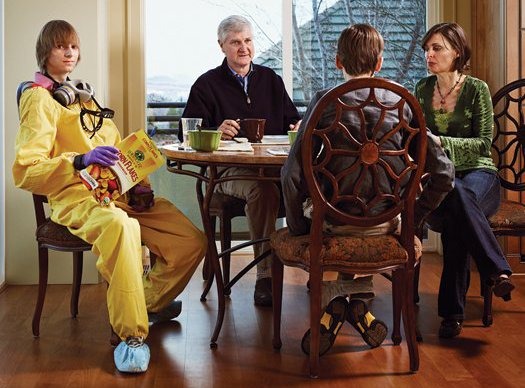 Jeff Nichols' second film Take Shelter, featuring Michael Shannon as a guy who develops an obsessive fear of a storm that may or may not be coming, solidified him as a director to watch.
Nichols shot the film Mud after Take Shelter, and while that one is awaiting release following its debut at Cannes, the director may already be on to his next project. Nichols in in talks to develop and direct The Boy Who Played With Fusion. The source is a Popular Science article of the same name that tells the story of Taylor Wilson, a teen from Alabama who became the youngest person to achieve nuclear fusion.
Deadline reports that Chernin Entertainment picked up the rights to the original article, and has set Nichols to develop the film as part of Chernin's deal with Fox.
The story is inspiring, as it details how Wilson was encouraged by his family to explore his nuclear interests. The boy tried to use radioactive isotopes to cure cancer when his grandmother was stricken with disease, and ultimately became the youngest person — and only the 31st private effort — to build a working fusion reactor. He has also turned his interest in isotopes into techniques for combating terrorism. Wilson's efforts are impressive, and the encouragement he got from his family is equally interesting. Without their support, things might have ended differently.
But this film won't just be Wilson's success story. Contrasting his fruitful work will be the story of another nuclear minded teen, David Hahn, who in the '90s tried to build his own reactor in his back yard. Hahn's family forbade his efforts, and his work was carried out in secret. That didn't have the best outcome. Hahn's story is told in  the book The Radioactive Boy Scout by Ken Silverstein, of which Wilson is a fan, as noted by PopSci. Of the book, Wilson once said, "the things that kid was trying to do, I'm pretty sure I can actually do them."
(Oh, and while you're clicking around today, head to Deadline and check out the second comment on the source article, which includes this lovely exclamation: " Yes! Let's all get excited about "fusion". Ever watch the "Big Bang Theory?...done this whole area many times before." Shockingly, this one is signed with a pseudonym.)