'The Big Wedding' Trailer - Robert De Niro, Diane Keaton, And Susan Sarandon Engage In Wacky Wedding Hijinks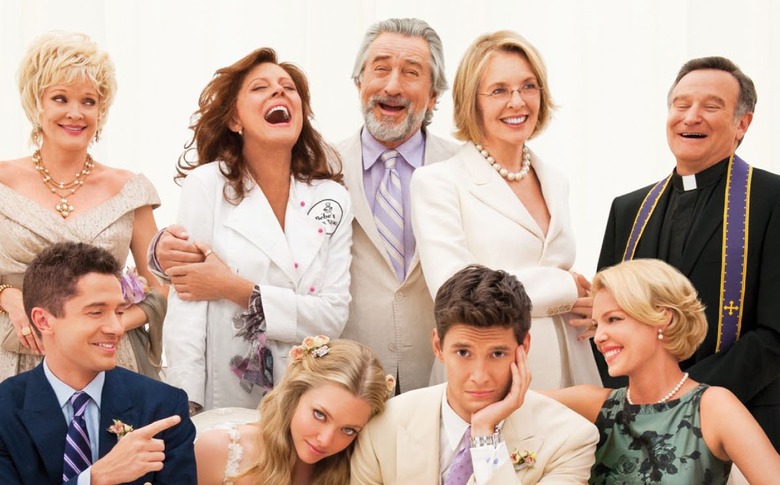 38 years after The Godfather Part II, Robert De Niro and Diane Keaton are sharing the screen once again in the The Big Wedding. Don't expect another all-time cinematic classic, however — this one looks somewhere between "forgettable" and "downright awful."
De Niro and Keaton play a long-divorced couple who, by some contrived movie logic, are forced to pretend they're still married for the duration of their adopted son's (Ben Barnes) wedding. Topher Grace and Katherine Heigl play their other kids, Amanda Seyfried is Barnes' blushing bride, Robin Williams a priest, and Susan Sarandon De Niro's new wife. Watch the first trailer after the jump.
[via First Showing]
Keep in mind that the older half of the cast counts some five Oscar wins and another fourteen nominations between them. True, each of them has more than a few misses to go with those hits. But you'd still hope that teaming up the stars of Annie Hall, Goodfellas, Thelma & Louise, and Good Morning, Vietnam would yield slightly more appealing results.
The Big Wedding was written and directed by Justin Zackham, who also scripted the Morgan Freeman / Jack Nicholson schmaltzfest The Bucket List. If you're feeling kinder toward this movie than I am, it opens October 26.
SYNOPSIS:
With an all-star cast led by Robert DeNiro, Katherine Heigl, Diane Keaton, Amanda Seyfried, Topher Grace, with Susan Sarandon and Robin Williams, THE BIG WEDDING is an uproarious romantic comedy about a charmingly modern family trying to survive a weekend wedding celebration that has the potential to become a full blown family fiasco. To the amusement of their adult children and friends, long divorced couple Don and Ellie Griffin (De Niro and Keaton) are once again forced to play the happy couple for the sake of their adopted son's wedding after his ultra conservative biological mother unexpectedly decides to fly halfway across the world to attend. With all of the wedding guests looking on, the Griffins are hilariously forced to confront their past, present and future – and hopefully avoid killing each other in the process. Screenplay by Justin Zackham. Directed by Justin Zackham.