TV Bits: 'Dexter', 'Boardwalk Empire', 'The Big C', 'Battle Royale', 'Dr. Horrible', 'American Horror Story'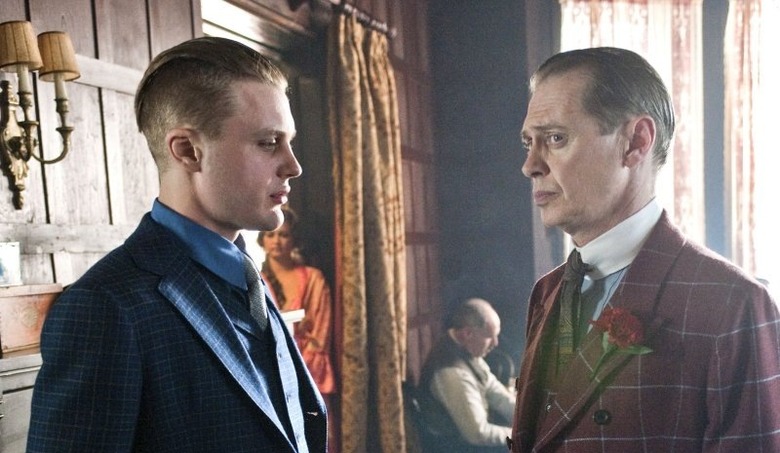 Death is in the air in this edition of TV Bits, which involves a full-time gangster, a serial killer, an aspiring supervillain, a cancer patient, a clutch of murderous teens, and probably a ghost or two. After the jump:
Dexter gets a new TV spot titled "The Beginning"
Check out a trailer for Boardwalk Empire Season 3
Showtime's The Big C will end after Season 4
The CW president talks Selection and Battle Royale
Dr. Horrible gets a small-screen premiere date
See Adam Levine on the American Horror Story set
Dexter returns Sunday, September 30. [Dread Central]
Also working hard to get you pumped is HBO's Boardwalk Empire, which has just unveiled a stylish new teaser for its third season. The symbolism-heavy spot shows Nucky (Steve Buscemi) shooting a mysterious figure in the rain, as a ring and a flower fall to the ground.
Lord knows what any of this means, but "You can't be half a gangster" is a pretty intriguing tagline. Boardwalk Empire returns September 16. [Vulture]
Showtime has renewed the Laura Linney-starring cancer comedy The Big C for a fourth season, which will be the show's last. Each season of the show corresponds to a calendar season in the storyline — Season 1 followed Cathy's summer, Season 2 moved into fall, and so on — but her spring, it seems, will be extra short. Where the first three seasons consisted of twelve half-hour episodes each, Season 4 will consist of just four hourlong episodes.
Meanwhile, Episodes and Borgias are both likely to get renewals, although it seems nothing's official yet. And Dexter fans who've been grumbling about the show's decline can breathe a sigh of relief. Though network president David Nevins acknowledged, "I'd be stupid if I didn't leave the door open," the serial killer series ending after Season 8 is still "the likely scenario." [Deadline]
We couldn't quite believe our eyes last week when we read the news that The CW was looking into adapting the Japanese cult thriller Battle Royale into a series, and in truth there's still no guarantee it'll actually happen. A Battle Royale rep said at the time that there was no deal yet, and over the weekend The CW president Mark Pedowitz was careful to stress that negotiations were still in the early stages.
If it does pan out, though, Pedowitz has a plan for dealing with the ultra-violent nature of the teens-killing-teens plotline. He told press during a TCA panel that "we're not planning anything that we cannot get on the air; we won't go in that direction," which suggests we'll be getting a rather toothless version of the premise. Which of course raises the question of why they're even bothering to try and adapt a movie that's mostly known for being dark and violent. Sigh.
But of course the answer is obvious: They're looking for their own Hunger Games. They had a possible successor in the Kiera Cass adaptation The Selection, about a dystopian society in which select girls across all castes compete (non-homicidally, as far as I can tell) to marry the prince. The series went to pilot but didn't make the cut because "we wanted it to have a Hunger Games/Game of Thrones-type tone," and has been sent back to writers Elizabeth Craft and Sarah Fain for rewrites. [Deadline]
On the flip side, here's some CW programming we know you'll actually look forward to. Joss Whedon's delightful web miniseries Dr. Horrible's Sing-Along Blog will make its TV debut on the CW Tuesday, October 9 at 9 PM. The show's really not that hard to find online, so I'd really think that anyone who wants to see it already has by this point — but I'm also not going to complain about any opportunity to watch Neil Patrick Harris, Nathan Fillion, and Felicia Day sing their hearts out at each other.
Cameras are rolling on the second season of FX's American Horror Story, which features a slew of fresh faces including Franka Potente, Chloe Sevigny, Lizzie Brocheré, Joseph Fiennes, James Cromwell, and Clea Duvall. Showrunner Ryan Murphy tweeted a photo of one newcomer, Adam Levine, with the caption "Two of our stars who started shooting today – - the multi-talented @adamlevine and Bloody Face!"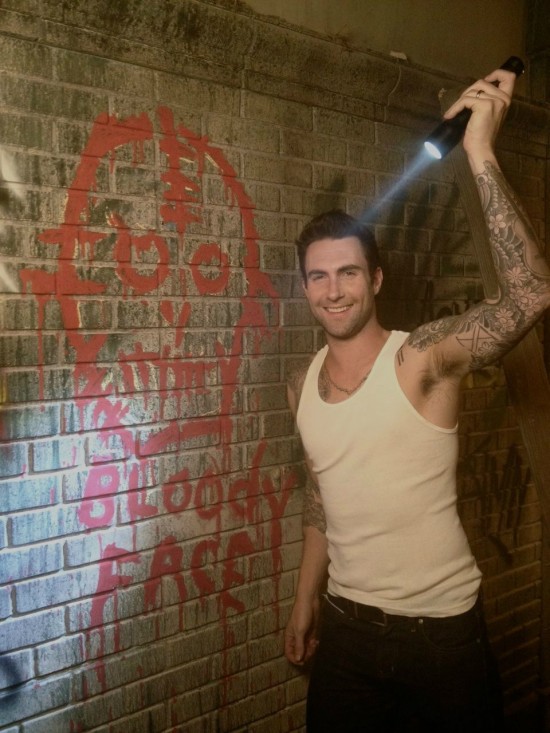 Season 2 of the horror series will take place in a 1960s East Coast asylum run by Jessica Lange's character. All we know about Levine's specific storyline is that he and Jenna Dewan will play a couple known as The Lovers, so your guess is as good as ours on who or what this "Bloody Face" is all about. American Horror Story returns this fall. [TV Line]