TV Bits: 'Arrested Development', 'Mockingbird Lane', 'Modern Family', 'Louie', 'Sons Of Anarchy', 'How I Met Your Mother', And More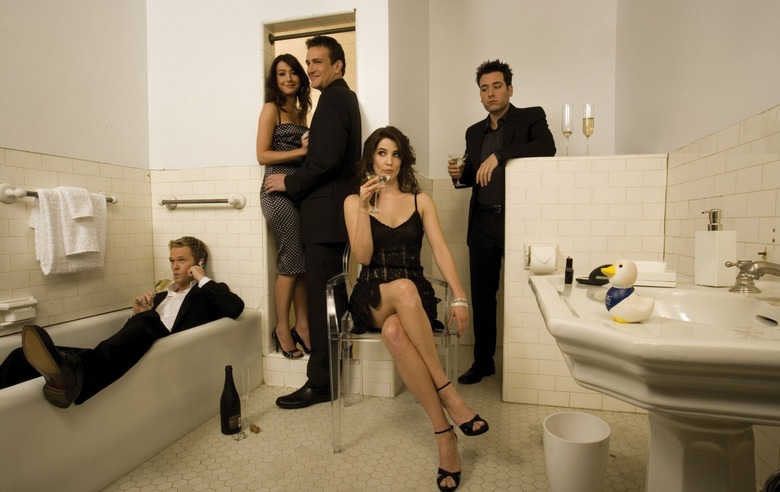 As the Bluths and the Munsters prepare to come back to TV, it looks like SAMCRO and the MacLaren's gang may be on their way out. After the jump:
Here's Michael Cera on the Arrested Development set
More details on the Munsters reboot Mockingbird Lane
Modern Family's adults get their raises, kids want the same
FX renews Louie and probably Wilfred and Justified
Anger Management gets Martin Sheen, many more episodes
FX's Sons of Anarchy will likely end after Season 7
How I Met Your Mother will treat Season 8 like it's the last
... which means releasing a new original soundtrack, apparently
CBS unveils posters for Elementary, Vegas, and more
New episodes of Arrested Development will (allegedly) hit Netflix sometime in 2013. [via Vulture]
It's pretty clear at this point the Mockingbird Lane won't be all that much like its source material, The Munsters, but creator Bryan Fuller says we can still expect his new show to make references to its predecessor as well as other famous monsters. Fuller revealed that the family pet Spot will appear near the end of the pilot looking "like a Harry Potter dragon," and that the Wolfman, the Creature from the Black Lagoon and the Phantom of the Opera will be make appearances down the line should the show get picked up.
As for the sound of the series, Fuller says they "hope to create our new sound for Mockingbird Lane using the old sound from The Munsters," but that they're still working out rights issues. Head to THR to read the full interview. [via Comic Book Movie]
Contract negotiations for Modern Family took a worrying turn last week when the adult members of the cast filed a lawsuit against 20th Century Fox TV, pushing back the very first table read of the season. But happily for fans, Deadline now reports that the suit has now been dropped and the two sides have reached a deal which involves hefty raises for the actors (Julie Bowen, Ty Burrell, Jesse Tyler Ferguson, Eric Stonestreet, Sofia Vergara, and Ed O'Neill).
Money talks aren't completely over yet, however. THR's sources indicate that the four younger stars (Rico Rodriguez, Nolan Gould, Ariel Winter, and Sarah Hyland) are now seeking higher salaries as well. Their talks aren't expected to get as ugly as their adult counterparts' did, and their raises aren't likely to be as big. This leaves 5-year-old Aubrey Anderson-Emmons, who gets less screen time than the other stars as Stonestreet and Ferguson's daughter, as the only actor not making salary demands. [via Vulture]
FX has offered updates on several of its existing shows, and there's good news all around — well, provided you don't actively despise Charlie Sheen. Louie is set to come back for a fourth season, while Russell Brand's talk show Brand X has received an order for seven more episodes. Wilfred, Justified, and Anger Management are looking likely to return as well, though their deals have not closed. [EW]
In fact, let's hope your Sheen tolerance is pretty damn high, because FX is expected to give Anger Management a multi-season, 90-episode renewal to add on to its already existing ten-episode order. Tagging along for the ride will be Charlie's real-life dad Martin Sheen, who'll appear in a recurring guest role as Charlie's dad. He'll make his first appearance in an episode on August 16. [via Cinema Blend]
Meanwhile, another of FX's hits, Sons of Anarchy, is starting to look toward making a graceful exit. But you don't need to mourn its demise just yet. The biker drama is entering its fifth season in September and has already been renewed through Season 6, and showrunner Kurt Sutter says his plan is to end it after Season 7.
Sutter said during the Sons of Anarchy panel at the TCA press tour that the fifth season is "really the first season I've had to have a very clear sense of what my end game is." He later added in interviews that "We have a sense of it playing out in seven [seasons] [...] At this point, which is not outside the realm of possibility, I think I'd really have to fuck things up not to get seven seasons." [THR]
With the fall TV season fast approaching, CBS has dropped splashy new posters for four of its freshman series: the Sherlock Holmes riff Elementary, the cops-and-gangsters epic Vegas, the legal drama Made in Jersey, and the BFF comedy Partners.
I'd just like to point out that the guy on the far left in the Partners poster is supposed none other than former Superman Brandon Routh, which raises the question of what in the hell CBS' marketing team did to his face. Can't the poor guy catch a break? [EW]
While CBS hypes its new shows, it's debating what to do about one of its older ones. While it's unclear at this point whether How I Met Your Mother's upcoming eighth season will be its last, co-creator Craig Thomas says he and his staff plan to treat it as such. "We are shooting the premiere to launch the final season of How I Met Your Mother," he said. "Whether it's the final season or not, I don't know. But the premiere sets us up to end it."
While Thomas is "hopeful" that he'll get an answer on a potential ninth season sooner rather than later, "[a]t a certain point in the season, there's a point of no return." Head to Vulture to read the rest of the interview, in which he drops hints on this fall's premiere and the next season.
One thing that is certain about How I Met Your Mother's eighth season, however, is that it'll come with a brand-new original soundtrack. The 40-minute, 20-track album will include "Nothing Suits Me Like a Suit," the Puzzles theme, and, as Thomas puts it, "a fully-produced version of the 'Bang-Bang-Bangity-Bang' song, perhaps with a slight New Orleans theme." Expect the album to drop September 24, to coincide with the show's fall premiere. [HitFix via Vulture]