Disney's 'Frozen' Reveals More Plot Details, Including New Sidekicks And A Hero-Villain Connection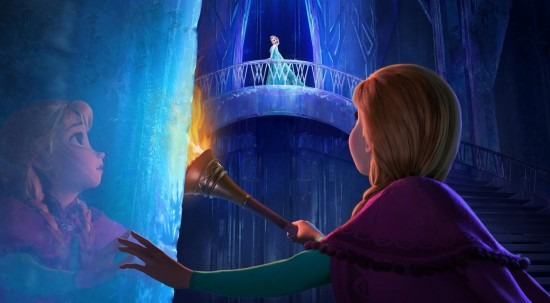 As Disney's Frozen picks up steam, we're getting some new details on the animated Snow Queen adaptation — which, the more we hear about it, sounds less and less like a Snow Queen adaptation. Not that that's a bad thing.
We've known for a while that the movie would center around a female lead journeying across forbidding territory to end the Snow Queen's spell, but a new synopsis fleshes out the plotline a bit more. For starters, the heroic Anna (Kristen Bell) and the Snow Queen (Idina Menzel) are now sisters; for another, Anna will be aided in her quest by a couple of sidekicks, including a reindeer and a sentient snowman. More after the jump.
In "Frozen," a prophecy traps a kingdom in eternal winter, so Anna (voice of Bell) must team up with Kristoff, a daring mountain man, on the grandest of journeys to find the Snow Queen (voice of Menzel) and put an end to the icy spell. Encountering Everest-like extremes, mystical creatures and magic at every turn, Anna and Kristoff battle the elements in a race to save the kingdom from destruction.
And here's the new one, via Bleeding Cool:
When Anna is cursed by her estranged sister, the cold-hearted Snow Queen, Anna's only hope of reversing the curse is to survive a perilous but thrilling journey across an icy and unforgiving landscape. Joined by a rugged, thrill-seeking outdoorsman, his one-antlered reindeer and a hapless snowman, Anna must race against time, conquer the elements and battle an army of menacing snowmen if she ever hopes to melt her frozen heart.
The sibling rivalry angle is interesting, and I'd expect the "one-antlered reindeer" and "hapless snowman" to make for some entertaining supporting characters. But the story itself isn't sounding much like Hans Christian Anderson's Snow Queen tale, which centers around a little girl who sets out to rescue her friend, a little boy, after he's kidnapped by the Snow Queen. Instead, it seems Disney's using the basic premise as a jumping-off point into an original plotline. They took a similar approach to Rapunzel in Tangled with very charming results, so it makes sense that they'd try it again here.
Directed by Chris Buck (Tarzan) with original music by Robert Lopez (Book of Mormon) and Kristen Anderson-Lopez (Winnie the Pooh), Frozen will open November 27, 2013.