'The Oranges' Trailer - Hugh Laurie Falls For His Best Friend's Daughter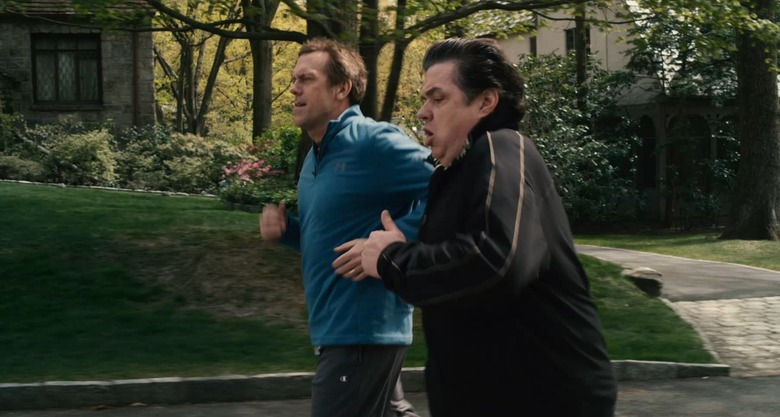 Dating can be a tricky proposition under even the best of circumstances, but in The Oranges, Hugh Laurie's divorced dad David Walling finds himself in a particularly sticky situation when he falls for the much younger daughter (Leighton Meester) of his best friend (Oliver Platt). Toss in a jealous ex-wife (Catherine Keener) and a son (Adam Brody) who's also crushing on the same girl, and "clusterfuck" doesn't even begin to describe it.
There are a number of different directions that premise could go, from wacky sitcom to soapy melodrama to psychological thriller. Fortunately for David Walling, The Oranges doesn't seem to be the kind of movie that ends with him getting buried in a shallow grave by his former BFF. Instead, it looks like a modest but well-acted character piece that mines the situation for both humor and pathos. Allison Janney and Alia Shawkat round out the excellent cast. Watch the trailer after the jump.
[via Yahoo Movies]
House fans may recall that this isn't the first time Laurie and Meester have shared the screen. Back in Season 3 of the Fox drama, she played a teenager who becomes obsessed with the prickly protagonist. This time around, however, it appears Meester's affections are reciprocated.
But based on what we see in the trailer, it seems like the budding May-December romance may actually be the least interesting relationship in the film. I'm more curious about his connection with Platt's character Terry Ostroff, as well as his bond with his ex-wife Paige and his daughter Vanessa (Shawkat). Though Vanessa seems to sit out most of the action in this video, she also serves as the narrator, so presumably she's more central in the actual film.
Directed by TV vet Julian Farino, The Oranges will get a limited theatrical release starting October 5.