'Life Of Pi' Trailer: Adrift In The Cruel, Beautiful Sea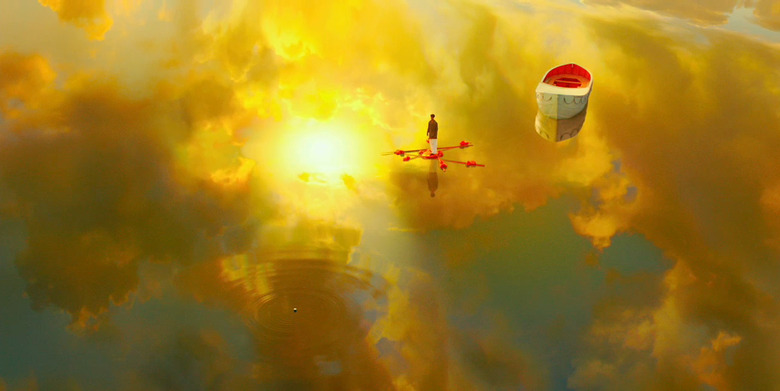 The year-end prestige movie season looks possibly even more competitive than usual this year, but Fox seems pretty confident they've got a four-quadrant hit in Life of Pi. Though the project suffered several stops and starts during its development process, it's finally taken shape under the care of director Ang Lee, and the early buzz is that the results are eye-popping and crowd-pleasing. (As well as, Fox no doubt hopes, award-winning.)
The new trailer isn't our first look at the film — we've already seen a brief clip and previewed certain scenes — but it gives us the best look yet at the epic scope and storybook feel of the movie. And so far, it seems the praise is entirely justified. Check out the video after the jump.
Watch the trailer (via First Showing) below, or head to Apple to see all the pretty colors in crisp, clear HD.
Cinema Con attendees (including our boss Peter) seemed especially taken with Lee's use of 3D, so it's too bad that we can't get that extra third dimension on our computer screens. But even the 2D, 13" version of that trailer is anything but plain. Lee's always had a knack for striking imagery, but the vibrant, fantasy-tinged visuals of Life of Pi seem to take that to a whole new level.
Of course, it remains to be seen what Lee does with the unusual storyline, or how newcomer Sharma acquits himself in his very first feature film performance. If the other aspects of the film are up to par, Life of Pi could be an instant classic. If not, it may just wind up being an exceptionally attractive mess — which, to be fair, isn't the worst fate that could befall a movie.
Also starring Irrfan Khan, Gérard Depardieu, Tobey Maguire, Adil Hussain, and Shravanthi Sainath Tabu, Life of Pi opens November 21.
Synopsis:
Director Ang Lee (Brokeback Mountain, Crouching Tiger, Hidden Dragon) creates a groundbreaking movie event about a young man who survives a tragic disaster at sea and is hurtled into an epic journey of adventure and discovery. While marooned on a lifeboat, he forms an amazing and unexpected connection with the ship's only other survivor — a fearsome Bengal tiger.