VOTD: 'Y: The Last Man Rising,' A Live Action 'Y: The Last Man' Fan Film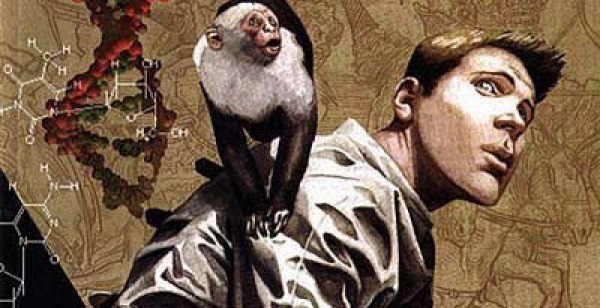 Y: The Last Man, the popular comic book series by Brian K. Vaughn and Pia Guerra, has been flirting with Hollywood for years. Several filmmakers and stars have expressed interest in the property, which dramatizes a world where every man on Earth dies save for one, but the story's huge scope has held it back. The latest update came in March when New Line hired the writers of the TV show Human Target to pen a new script.
But development hell means nothing when there's a passionate fan base on the Internet and today fans get a Y: The Last Man mini-movie. Director Christian Cardona has created a 20 minute fan film called Y: The Last Man Rising which sets up a few of the story's major arcs complete with violence, action and humor. Make no mistake, this is a low budget fan film, but it's got a great feel for Y: The Last Man and some nice little effects anyway. Check it out after the jump.
Thanks to IGN (via Film School Rejects) for this YouTube embed.
Here's the description of the film, including a few of the cast members:
Based on one of the most critically acclaimed comics of all time. A mysterious plague has wiped out all men on the planet, and women are left to pick up the pieces of society. The only surviving man is Yorick, an amateur escape artist who is the key to the continual survival of the human race. Special Agent 355 is tasked to protect his life at all costs. Luckily, she's really good at her job...
IGN and Drake 1129 Productions are proud to present this new short film, made by super fans of the comic. It covers the initial plague that kills any mammal with a Y chromosome (except Yorick and his trusty monkey companion, Ampersand) and an awesome fight between Agent 355 and a fanatical group of Amazons.
Directed and Written by Christian Cardona
Produced by Kent King and Christian Cardona
Yorick......................Travis Quentin Young
Agent 355................Kent King
Hero........................Rebecca Marshall
Roxy........................Vida Guerra
Victoria....................Traci Dinwiddie
This fan film is not endorsed by or affiliated with DC Comics/ Vertigo, Warner Bros Studios, or the original creators of the comic, Brian K Vaughan & Pia Guerra. You should read the original comic though — it's really, really good.
I devoured the Y: The Last Man comics when they were released in trade and would be beyond excited to see it handled right. Maybe this film will inspire Hollywood to get off their asses and give the property, which has such a mass appeal, four quadrant storyline, its due.
What did you think of the film?