'Beasts Of The Southern Wild' Featurette Reveals The Creation Of The Film's Roaming Monsters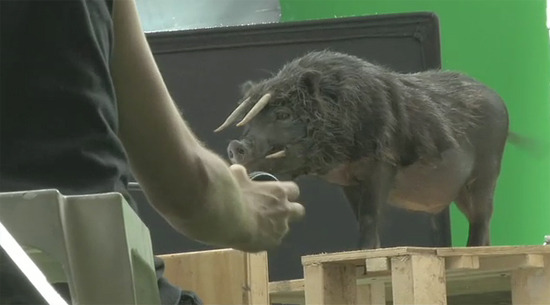 The most striking film of the summer is Benh Zeitlin's first feature Beasts of the Southern Wild. The movie follows a young girl, Hushpuppy, as her patched-together coastal world starts to crumble. Her father falls prey to a sickness, and her home is destroyed, as giant horned boars, called Aurochs, are freed from icy prisons before rampaging towards Hushpuppy in a charge of... well, that's the part I'll leave to the film.
While Beasts isn't much of a spoil-able story, this featurette might give a bit more away than some like. So those who have seen the film are a better audience for this than others. The Aurochs have a heavy presence in the story, and seeing them created in very simple ways provides a stark contrast to the images in the movie.
Take a look at how tiny pigs became monsters, below.
Apple has the HD version of the featurette. Beasts of the Southern Wild is in theaters now, and is highly recommended.
In a forgotten but defiant bayou community cut off from the rest of the world by a sprawling levee, a six-year-old girl exists on the brink of orphanhood. Buoyed by her childish optimism and extraordinary imagination, she believes that the natural world is in balance with the universe until a fierce storm changes her reality. Desperate to repair the structure of her world in order to save her ailing father and sinking home, this tiny hero must learn to survive unstoppable catastrophes of epic proportions.