'Bachelorette' Trailer - Kirsten Dunst, Isla Fisher, And Lizzy Caplan Are The Worst Bridesmaids Ever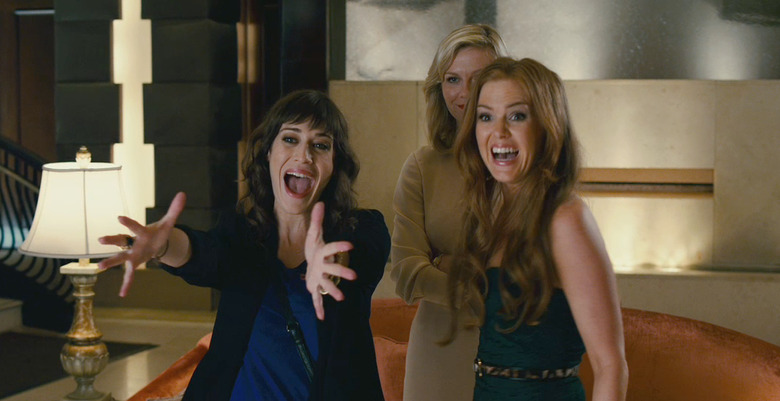 The success of last year's Bridesmaids got the wheels in motion for a wave of female-driven wedding comedies, among them Leslye Headland's Bachelorette. But this first trailer for Bachelorette should dispel any notion that it's simply a watered-down Bridesmaids retread.
Early buzz out of Sundance was that Bachelorette was sharper and darker than last year's wedding-themed comedy, and while reactions were mixed it seems worth checking out for its for its cast alone. Kirsten Dunst, Lizzy Caplan, and Isla Fisher play a trio of mean girls called upon to serve as bridesmaids for an old pal (Rebel Wilson), but it's not wrong before things go awry. Kyle Bornheimer, Hayes MacArthur, James Marsden, and Adam Scott also star, which means, yup, it's a mini-Party Down reunion. Watch the trailer after the jump.
Head to Apple to see it in HD.
The trailer isn't quite laugh-out-loud funny, but it has its moments. Dunst in particular gets some amusing "dying inside" reaction shots, while Fisher seems to step back into her endearingly wild Wedding Crashers persona. And Party Down fans will no doubt be thrilled to see that Scott and Caplan seem to pick up right where they left off, with the same prickly chemistry.
Bachelorette will get a VOD release August 10, before rolling out to theaters on September 7.
Synopsis:
On the night before an old friend's wedding, three frisky bridesmaids go searching for a little fun but find much more than they bargained for. With lovely Becky (Rebel Wilson) set to marry her handsome sweetheart, Dale (Hayes MacArthur), the remaining members of her high school clique reunite for one last bachelorette bacchanal in the Big Apple. Regan (Kirsten Dunst) is an overachieving, ueber-Maid of Honor who's secretly smarting over the fact that she's not the first to marry, while Gena (Lizzy Caplan) is a whip-smart sarcastic who's actually a closet romantic, and Katie (Isla Fisher) is a ditzy beauty who loves the good life. But when Becky insists on keeping the bachelorette party tame, the women proceed with an after-hours celebration of their own.