Sequel Bits: 'Kick-Ass 2,' 'xXx 3,' 'X-Men: First Class 2,' 'Iron Man 3'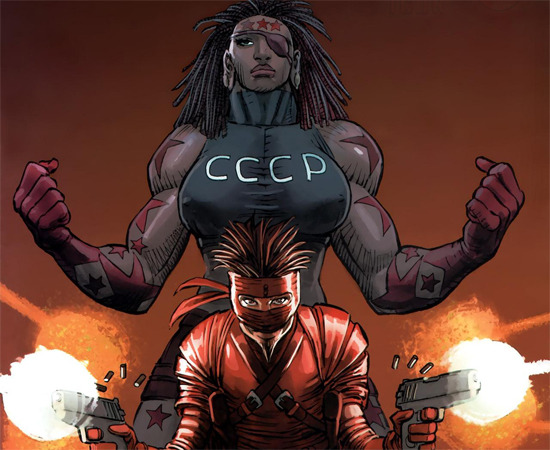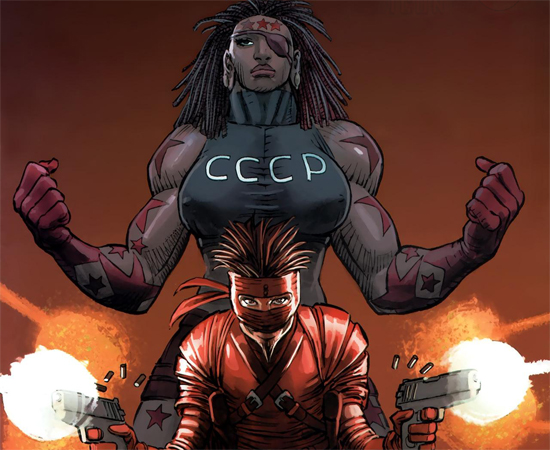 You want sequels? Hollywood has them, of course. Or plans for them, at least. After the break, we'll address the following:
Will the character Mother Russia find her way into Kick-Ass 2?
Is a xXx sequel actually happening? (Probably not.)
In lieu of that, how about a (very, very) vague Fast Six teaser image?
X-Men: First Class screenwriter Simon Kinberg talks about the new film
and there's a bit of new concept art for Iron Man 3.
Moviehole says that the following casting info has gone out to agencies, with specifications for a very tall, fit woman:
Classic Villain. An ex-KBG officer who is now being paid by the week by Chris to fight in his group — she is easily the most skilled and just a ruthless killer in general. Described as a 'roided-out female bodybuilder, she needs to be extremely physically imposing and muscular, though still come across as feminine. As tall as possible (6ft and over only). Indicate height on submission.
The Australian Moviehole also has info that Vin Diesel's third xXx film would have shot in Australia and a bit in New Zealand, had plans gone ahead full speed. But the film is "indefinitely on hold for the time being," says the site.
Speaking of Vin Diesel, his Fast Five co-star Tyrese just tweeted this statement and image:
Roman Pierce &DOM LIVES ON!!Fast Six is in MOTION!!!! twitter.com/Tyrese/status/...

— Tyrese Gibson (@Tyrese) July 20, 2012
A sequel to X-Men: First Class is in development, with plans to shoot the film once Jennifer Lawrence is done with Catching Fire. (That is: early next year.) Given that it's a few months off, we know very little at this point about what Matthew Vaughn will do to follow up last year's solid account of the X-Men's formative years, but screenwriter Simon Kinberg dropped a few hints at Comic Con while talking to Collider.
He says the script isn't finished, but notes that what they're working with is "more epic, mythic in a way as well," saying that the success of the first film should serve to provide a bigger budget and broader scope. He adds,
I wish I could tell you about it, but literally, it's like the most guarded state secret I've ever been around. I can tell you that it's going really well, and I can tell you that I've been working closely with Matthew Vaughn and Jane Goldman on the script of the movie and that we hope to be shooting in Spring of next year to come out in July of 2014 and that I'm really excited about it, because the only thing I can say, because I have to be extraordinarily vague about it, because the last time I talked to anybody about it, I got in trouble...big trouble...what I can tell you is [that] it's extraordinarily ambitious. It is unlike the other X-Men movies and yet very much a celebration of the X-Men movies.
Meanwhile, Tim Burton is still talking about a possible Beetlejuice sequel — or at least, when people ask him about it, he'll throw out a few familiar talking points. When MTV pressed him on the subject at Comic-Con, he discussed the essential factor of Michael Keaton:
I think he would be willing to do it. He would have to be [in] it. He was great as that character. I think it's a way to unleash your inner whatever. I bet you he would get right back into it. I'm finishing [Frankenweenie], and then I need to [revisit 'Beetlejuice 2'].
Seth Grahame-Smith, who wrote Dark Shadows (eek) for Burton, would be writing the script, but he has said that he has some big commitments before he can get to the further tales of Michael Keaton's gross ghost. He has said that Beetlejuice 2 would be a "true sequel," however.
Finally, what purports to be new concept art for Iron Man 3 is floating around. It shows a version of the armor we saw for real at Comic Con, but you might like the painted version, too: