AMC Orders 'Preacher' Pilot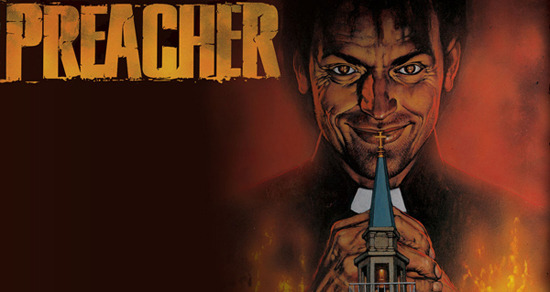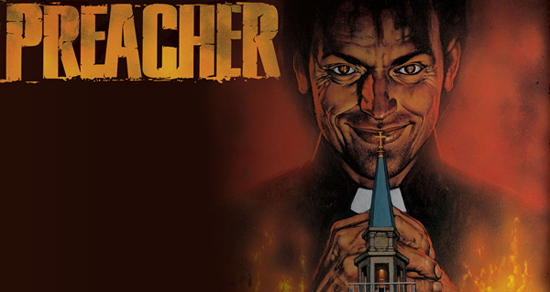 An adaptation of the profane, funny and strange Garth Ennis and Steve Dillon comic book series Preacher never got off the ground as a film, but the TV series adaptation is steadily moving forward. Developed by Seth Rogen and Evan Goldberg (This is the End, The Interview), the series now has a pilot order. AMC made the deal for a Preacher pilot, scripted by Rogen and Goldberg.
That means we'll soon hear casting choices for the characters, likely beginning with Jesse Custer, the preacher of the title who is imbued with the power of Godly persuasion... and wants to confront God as a result.
Variety had the news first, and the show's official Twitter account echoed it shortly afterward:
Neal Moritz's company Original Film is producing, with Rogen, Goldberg and Moritz as exec producers working with showrunner Sam Catlin. Rogen and Goldberg will likely direct the pilot when it shoots in summer 2015. The earliest we'll likely see the pilot is 2016.
The pair said,
'Preacher' has been our favorite comic since it first came out. Garth Ennis is one of our idols and it's an incredible honor to be working on this. We promise we won't make too many dick jokes and ruin it.
When AMC announced the development of the show, the network released this synopsis:
Preacher follows Reverend Jesse Custer, a tough Texas preacher who has lost his faith, has learned that God has left Heaven and abandoned His responsibilities. He finds himself the only person capable of tracking God down, demanding answers, and making Him answer for His dereliction of duty. Accompanying Jesse on his journey is his former girlfriend and a friendly vampire who seems to prefer a pint in the pub to the blood of the innocent. On his tail is one of the most iconic bad guys in print – an immortal, unstoppable killing machine named the Saint of Killers – a western lone gunman archetype whose sole purpose is to hunt and kill Jesse.