'21 Jump Street 2' Could Shoot This Fall; 'Men In Black 4' And Rebooted 'Jumanji' In Development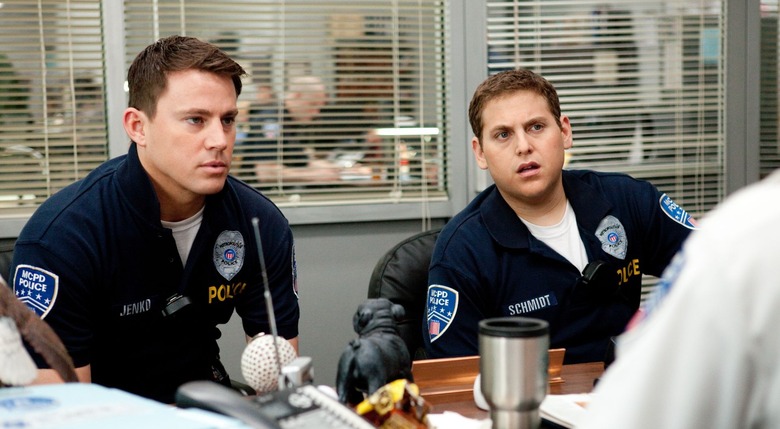 Much as we like to bemoan the lack of originality in mainstream cinema, the fact is that movies tied to existing properties do big business. Sony's three biggest hits so far this year have been 21 Jump Street, Men in Black 3, and The Amazing Spider-Man – based on a 25-year-old TV series, a 15-year-old sci-fi blockbuster, and a 60-year-old comic book character, respectively — so it's no surprise that the studio plans to keep a good thing going with sequels to all three of those films. And quickly: According to Sony exec Douglas Belgrad, 21 Jump Street 2 could begin shooting in just a few months.
But they're not just looking to this past year to help fill out the upcoming slate. Sony's also reportedly developing a reboot of Jumanji, the 1995 picture adapted from the 1981 children's book. Hit the jump to read Belgrad's comments on Men in Black 4, 21 Jump Street 2, and the new Jumanji. (Head here for more on The Amazing Spider-Man 2.)
We've known that writers Jonah Hill and Michael Bacall were working on a 21 Jump Street sequel since before the first movie even opened, and it looks like Sony's eager to get rolling as well. "We plan to start shooting in the fall," Belgrad revealed. One of the reasons Sony's so excited to get started has to do with the film's star Channing Tatum, who's only gotten bigger in the past few months. "There are very few actors ... who can do romance, action and comedy. We're in business with two of them, Channing Tatum and Will Smith," he said.
Which brought the conversation around to the other multi-genre star, Smith. Belgrad reported that he was "very pleased" with Men in Black 3's $615 million global box office take. "We believe it is an ongoing franchise," he said. "We're going to do [another one], but we don't have clarity yet on how it should be done."
True, a lack of focus didn't seem to stop them from pressing forward with MIB3, which famously began shooting before it even had a finalized script in hand. But that move cost the production both financially and creatively, so perhaps they've learned from their mistakes.
In the long run, Belgrad says he and Sony Pictures CEO Michael Lynton want to ramp up their efforts in "the family space." To that end, they're eyeing an updated Jumanji. "We're going to try and reimagine Jumanji and update it for the present," he said.
I'm betting most of you have barely given the kid-oriented adventure a second thought in the past fifteen years, but it's not entirely as random as it seems. The '90s Jumanji was a hit, earning $262 million worldwide on a budget of just $65 million. Furthermore, with all the improvements in special effects over the past several years, this could actually wind up being a remake that surpasses the original.