Sequel Bits: 'Twins 2', 'Iron Man 3', 'Dumb And Dumber 2', 'Kick-Ass 2'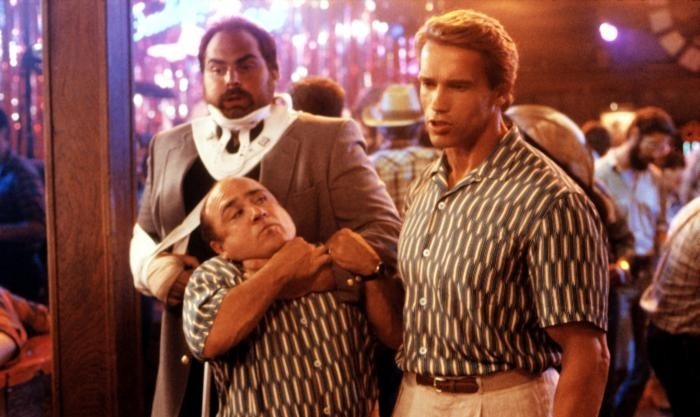 Two comic book movies and two long-in-the-making comedy sequels make their appearance in today's Sequel Bits. After the jump:
Ivan Reitman will return for Twins 2, says Arnold Schwarzenegger
Dumb and Dumber 2 could get rolling by fall, says Bobby Farrelly
Check out pics and video of stunt performers on the Iron Man 3 set
Christopher Mintz-Plasse will probably murder a dog in Kick-Ass 2
During the Expandables 2 panel at Comic-Con, Schwarzenegger confirmed that the project is still developing, and that Reitman would be returning to the helm. Now the next step, Schwarzenegger said, will be to find a writer. An earlier report suggested that Eddie Murphy could be joining the cast as a long-lost triplet, but that synopsis and Murphy's involvement remain unconfirmed at this time. [IFC, Deadline]
First Dumb and Dumber 2 was happening, and then it wasn't, and now it looks like it's back on again. Despite last month's report that Jim Carrey had dropped out of the project due to a lack of support from the studio, the Farrelly Brothers remain optimistic that cameras could roll as early as this fall.
In an interview with The Wrap, Bobby Farrelly acknowledged the difficulties they've faced in getting the movie made. "My brother and I have our blinders on, convincing ourselves it's going to happen but it hasn't been the easiest thing in the world to get off the ground," he said. "It's the same obstacle my brother Pete and I had when we tried to make the first Dumb and Dumber — for the people who make decisions, the people who wear the suits to read such a silly script and say 'oh that's hysterical let's make it.'"
Still, they're pressing forward. "We are actively working on it; we've been writing it for the last four months," he told the publication. "We're optimistic it will get made this fall."
We've been watching Iron Man fly since the first movie, so it probably won't come as a surprise to hear that Iron Man 3 will feature the character up in the clouds once again. This time, however, it appears he'll be bringing several other folks along for the ride. (Potential spoilers follow.)
A batch of photos from the Iron Man 3 set in Wilmington, NC show several stunt performers hanging from wires high in the air. Their costumes look like standard business wear to me, but Comic Book Movie describes some of them as flight attendant uniforms, and they quote a town manager who says there will be scenes showing "people jumping out of perfectly good airplanes." The rumor is that Iron Man will save a plane full of people, though we're not sure yet of the context in which that happens. Check out the photos here:
And here's a video clip of the stunt performers shooting either that same scene, or a similar one:
Iron Man 3 is due out May 3, 2013.
Christopher Mintz-Plasse may not have plans to rape anyone in Kick-Ass 2, but that doesn't mean his character won't engage in other heinous acts. "There's a lot of blood and murdering," the actor told MTV News. Including, possibly, the slaughter of a dog, as depicted in Mark Millar's comic book. MTV described the scene to Mintz-Plasse, who exclaimed, "That's horrible!"
However, the actor was clear that he'd do what he had to for the movie. "If I'm playing my character, you know, it's got to happen. But I don't know if that's going to be in the movie specifically." Informed by MTV that Millar had, in fact, said it would be included in the film, Mintz-Plasse responded (jokingly, we assume), "[Kick-Ass 2 is] going to be rated X. NC-17."