'Oz: The Great And Powerful' Photos Show Off Sam Raimi's Dazzlingly Colorful Fantasyland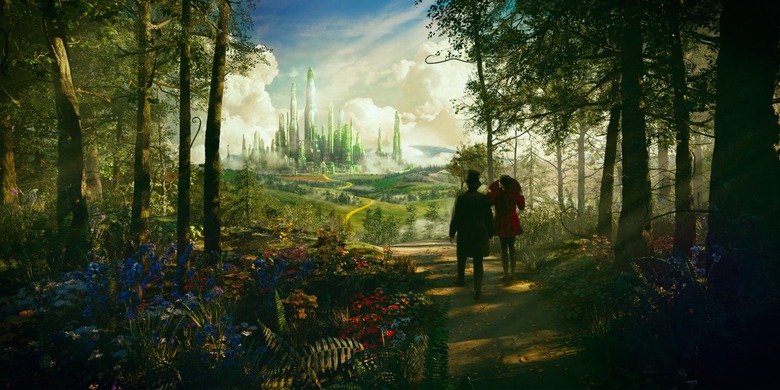 When Disney debuted footage from Sam Raimi's Oz: The Great and Powerful last weekend at Comic Con, there were more than a few comparisons to Tim Burton's Alice in Wonderland, based in large part upon one factor common to both movies. That would be the work of production designer Robert Stromberg, who also filled that role on Avatar, and is now directing Angelina Jolie in Maleficent.
The trailer release might have helped make the connection clear, and Disney has now released a half dozen photos from the film that you can peruse. These are mostly stills from moments glimpsed in the trailer, but they're a good way to pore over the designs that Stromberg created for Raimi's Oz, and they might help us get a good idea of what Maleficent might look like, too.
Oz: The Great and Powerful opens March 8, 2013.
Oz The Great and Powerful imagines the origins of L. Frank Baum's beloved character, the Wizard of Oz. When Oscar Diggs (James Franco), a small-time circus magician with dubious ethics, is hurled away from dusty Kansas to the vibrant Land of Oz, he thinks he's hit the jackpot—fame and fortune are his for the taking—that is until he meets three witches, Theodora (Mila Kunis), Evanora (Rachel Weisz) and Glinda (Michelle Williams), who are not convinced he is the great wizard everyone's been expecting. Reluctantly drawn into the epic problems facing the Land of Oz and its inhabitants, Oscar must find out who is good and who is evil before it is too late. Putting his magical arts to use through illusion, ingenuity—and even a bit of wizardry—Oscar transforms himself not only into the great and powerful Wizard of Oz but into a better man as well.