Sequel Bits: 'A Good Day To Die Hard', 'Star Trek 2', 'Scary Movie 5', 'Kick-Ass 2', 'Bourne 5', 'Hellboy 3'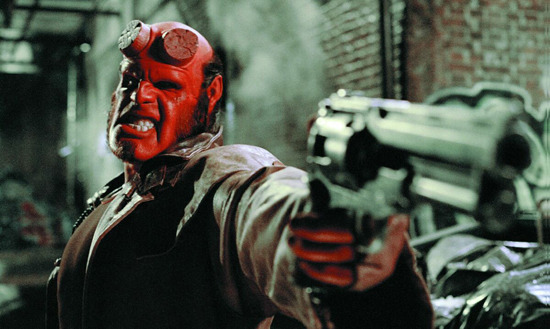 Sequel Bits is more badass than usual this time, with updates on skilled assassins, demonic heroes, costumed villains, and more. After the jump:
Watch Bruce Willis on the set of A Good Day to Die Hard
Alex Kurtzman talks about the villain's central role in Star Trek 2
Lindsay Lohan is in talks for a part in Scary Movie 5
Christopher Mintz-Plasse won't rape anyone in Kick-Ass 2
Matt Damon isn't convinced he's needed for Bourne 5
Guillermo del Toro still really, really wants to make Hellboy 3
A Good Day to Die Hard opens February 14. [via Boston Globe]
I Am Rogue sat down with Alex Kurtzman to talk writing Star Trek 2. While he wouldn't disclose the identity of the villain, he suggested that he'd be playing an especially important role in the new movie.
"Sequels are about the bad guy. The first movie is really about the first characters coming together, and how they become the bridge crew," he said. "In the second movie, the reason that a bad guy is so important is that he has to test that." Watch the interview below:
Star Trek 2 is scheduled for May 17, 2013. [Trailer Addict]
In recent years, Lindsay Lohan's been more famous for her tabloid-friendly shenanigans than for her actual body of work, but the onetime Mean Girls star seems eager to get her acting career back on track. She's just wrapped the Lifetime biopic Liz & Dick, and will likely head to Bret Easton Ellis' The Canyons in the near future. And now she's about to book a gig in a major — if critically reviled — franchise.
TheWrap reports that Lohan is in talks to join Ashley Tisdale in Scary Movie 5, in an unknown role. Malcolm Lee is directing the horror-comedy sequel, which will be a belated riff on Black Swan. Scary Movie 5 is due out April 19, 2013. [via Coming Soon]
Christopher Mintz-Plasse was at Comic-Con to promote his work on Laika's charming animation ParaNorman, but given the venue it's not surprising he found himself fielding a few Kick-Ass 2 questions as well. "It's very dark" he said of the sequel. "It's Warriors meets Kick-Ass at the end. He has a gang of superheroes and I have a gang of villains. It's huge."
As in the comics by Mark Millar, Mintz-Plasse's character Chris will be adopting the moniker "The Mother Fucker" as he delves further into the dark side. But Mintz-Plasse says there's one scene from the books that won't be seen on the big screen. "There was one thing they took out, thank god, my character rapes a girl in the comic," he revealed. "And in this one its really funny because... well, I don't want to ruin it. There's no rape." Kick-Ass 2 is expected to shoot later this year. [via CBM]
The Bourne Legacy star Jeremy Renner may be the new face of the franchise, but fans of the first three movies are still holding out hope that Original Flavor Bourne will make his return someday. That it won't be in Legacy, we know for sure — but what about Bourne 5? That's a question Matt Damon's been getting a lot lately, and his answer seems to boil down to "maybe, but probably not."
Damon's been insisting that he's open to the idea if there's a strong script, but that if he can't make one that's up to par with the previous films, "we really should leave it alone." But he thinks he could be out if Legacy is too good, as well.
"Tony [Gilroy] is really smart, he's a really good writer and a really good director and I'm sure he made a good movie," Damon told E! Online. "The question will be if they can franchise that movie, because if they can, then they'll be done with me. They'll just keep making those." Yeah, because Hollywood would never want to bring back the A-list star that made the franchise so beloved in the first place. [via The Playlist]
Guillermo del Toro never has any shortage of projects on his plate, and one that's been sitting there for a while is Hellboy 3. Talk of a possible sequel began before the second movie even hit, but years later there's been little progress on the movie. In February even Hellboy himself, Ron Perlman, reluctantly admitted that he didn't think a third film was likely.
Still, they're continuing to try. "I can say publicly that now we are together in trying [to do Hellboy 3]," del Toro said in a talk with EW. The filmmaker says he was inspired in part by Perlman's recent (unofficial) reprisal of the role, in which he got into character to help a little boy's Make-a-Wish dream come true. (Tears: jerked.) "I've encountered a lot of kids who are fans of the movies, but to hear the story of this kid who was watching the movies while going through treatment, it really just moved me a lot," del Toro said.
Perlman chimed in as well, indicating that he wanted to continue the storyline from the previous installments:
The [first] two movies were really set up to have this unbelievable resolve. Everything that was done in both movies was leading up to this destiny, written in stone, of what Hellboy has been summoned to Earth to do. To not do it, particularly in light of the scope that Guillermo is thinking of for the resolve, would be in my mind a little bit of a shame.
True, none of this means Hellboy 3 is happening for sure, but here's hoping the fact that del Toro and Perlman are actively develping it counts for something. [The Playlist]