Early Buzz: 'The Dark Knight Rises' Delivers On Lofty Expectations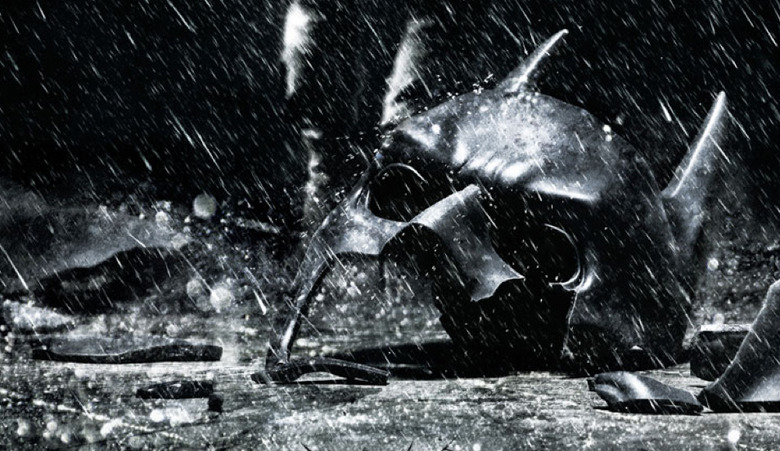 Warner Bros. has been incredibly careful with their marketing and access in regards to The Dark Knight Rises. Only a handful of select outlets were allowed to see Christopher Nolan's Batman finale in advance and Monday marks the lift of that embargo. The reviews are now online and – surprise, surprise – they're mostly very positive. It seems Nolan has lived up to, but maybe not exceeded, the lofty expectations we've placed on him for the past few years.
After the jump, we'll excerpt and link a bunch of reviews from well-respected outlets.
All of these excerpts are non-spoiler. However, I urge you to click on the links to read the reasons why these critics feel this way. And yes, some of that involves minor spoilers.
Here's Justin Chang from Variety:
Few blockbusters have borne so heavy a burden of audience expectation as Christopher Nolan's final Batman caper, and the filmmaker steps up to the occasion with a cataclysmic vision of Gotham City under siege in The Dark Knight Rises. Running an exhilarating, exhausting 164 minutes, Nolan's trilogy-capping epic sends Batman to a literal pit of despair, restoring him to the core of a legend that questions, and powerfully affirms, the need for heroism in a fallen world. If it never quite matches the brilliance of 2008?s The Dark Knight, this hugely ambitious action-drama nonetheless retains the moral urgency and serious-minded pulp instincts that have made the Warners franchise a beacon of integrity in an increasingly comicbook-driven Hollywood universe.
Todd McCarthy of The Hollywood Reporter:
Big-time Hollywood filmmaking at its most massively accomplished, this last installment of Christopher Nolan's Batman trilogy makes everything in the rival Marvel universe look thoroughly silly and childish. Entirely enveloping and at times unnerving in a relevant way one would never have imagined, as a cohesive whole this ranks as the best of Nolan's trio, even if it lacks — how could it not? — an element as unique as Heath Ledger's immortal turn in The Dark Knight. It's a blockbuster by any standard.
Drew McWeeny of HitFix:
We may never see superhero films quite like these again, and that's fine.  Nolan had something special to say with his time in the trenches, and he's ended on his own terms.  I suspect that the reaction to the film will be hotly divided, but I'm firmly on the side that this is a triumph, a victory for all involved, and one of the year's most impressive efforts so far in any genre, on any subject.  "The Dark Knight Rises" confirms that these films have always had an endgame in mind, and it has been a remarkable ride, one I would not want to follow.  Whoever Warner Bros hires to reboot the "Batman" films a few years from now, I wish you luck.  The bar is as high as it could possibly be.
Nev Pierce of Empire Magazine:
With spectacle in abundance and sexiness in (supporting) parts, this is superhero filmmaking on an unprecedented scale. Rises may lack the surprise of Begins or the anarchy of Knight, but it makes up for that in pure emotion. A fitting epitaph for the hero Gotham deserves.
Jim Vejvoda of IGN:
The Dark Knight Rises is certainly the most comic book-y of Nolan's three Batman films. It's also the most epic and lengthy one, and has the greatest inherent stakes and emotion....Director Christopher Nolan and his team have delivered the grandest, most emotional and superheroic chapter in their Batman saga. The Dark Knight Rises is a fitting emotional and narrative conclusion to this particular interpretation of the enduring story of Bruce Wayne the man and Batman the legend.
Todd Gilchrist of The Playlist:
An action opus that manages to be both viscerally and intellectually engaging,Christopher Nolan's highly anticipated third Batman film comes full circle, examining both the Dark Knight and the society that produced him without sacrificing any of the sweeping thrills for which the series is known. A literate, thoughtful and invigorating finale, "The Dark Knight Rises" delivers everything audiences could ask for and then some, albeit in fewer of the ways than they might expect.
There are a few other reviews online as well but, just to wrap things up until we run our own reviews in the coming days, here's a longer excerpt from the lone negative review on Rotten Tomatoes. The film is currently at 95%.
Marshall Fine of Hollywood and Fine:
Now comes "The Dark Knight Rises," bringing in the Bane character (played, with my condolences, by Tom Hardy) and Catwoman (Anne Hathaway, one of the movie's few highlights). Nolan gets so caught up in creating an epic adventure that he hammers the "epic" and neglects a crucial component: the adventure.
Which has been my criticism of so many of the comic-book movies of the past decade: too little attention paid to that most necessary of elements – excitement. There is very little about "The Dark Knight Rises" that will make you tense, hold you in suspense or cause your adrenaline to squirt. At times, the action is so massive and thunderously clunky that I might as well have been watching one of the "Transformers" movies.
That's unfortunate because, somewhere within the mashed-potato mounds of Nolan's 2:40 behemoth exists a lean, compelling and distinctly dramatic tale of redemption and sacrifice, told in the kind of personal terms that Nolan made work for him in such films as "Memento," "Inception" (despite its size) and "Batman Begins." I'm not trashing the entirety of "The Dark Knight Rises" – I'm saying that its potential is such that it ultimately disappoints, thanks to Nolan's decision to go big, bigger, biggest.