'Man Of Steel' Premieres Footage, Poster, Teases Villain And 'Justice League' Link [Comic-Con 2012]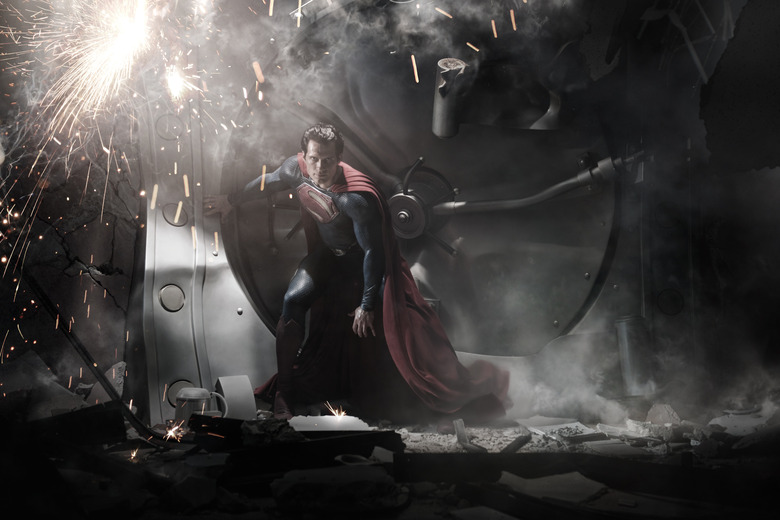 The first footage ever from Zack Snyder's Man of Steel premiered Saturday evening during the Warner Bros./Legendary panel in Hall H at San Diego Comic-Con 2012. It did not disappoint. The film looks to be about a young man's struggle with the inevitably of his superhero destiny and, in the footage, we saw tons of curious images. There are a few shots of Clark visiting Krypton (or somewhere; Russell Crowe was there), there's a massive battle with Superman (Henry Cavill) and Michael Shannon's villain flying at each other vertically beside a building, some kind of force that throws Superman into the above vault, Lois Lane kissing Superman, the military keeping watch on Superman, a young Clark saving a bus full of kids and much more.
A shorter teaser trailer will be attached to The Dark Knight Rises later this week and we'll have much more on the footage soon. However, a new teaser poster was revealed, Snyder was asked a few pointed questions about the villain and whether or not this film will link to a Justice League movie. Read more after the jump.
First up – here's the new poster: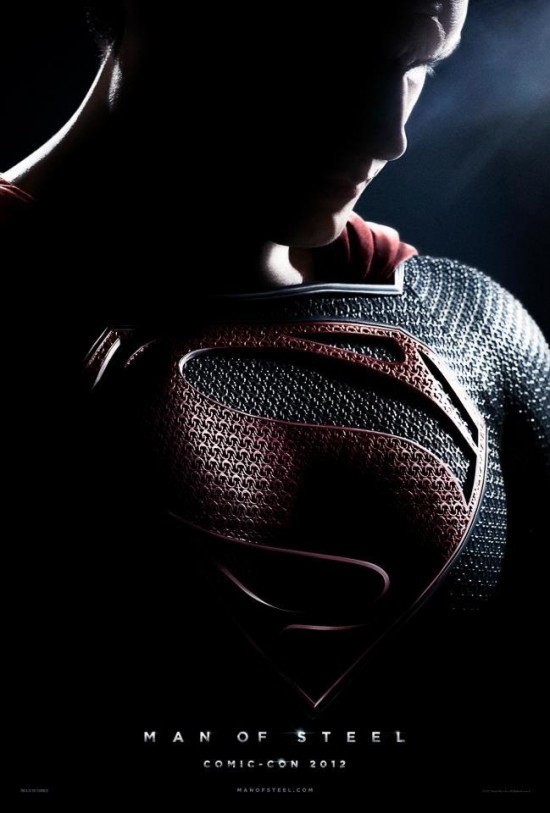 On the subject of the villain, one person asked Snyder straight up who the character was. He said watch the footage again so we did. In the footage we clearly see Michael Shannon's visage with what almost seems like an exo-skeleton around him followed by the aforementioned flying shot. Later, someone matter of factly asked if Zod was going to be relatable in the movie, referencing an earlier quote by Snyder saying his film would make Superman feel more personable and relatable. He responded by saying "Everyone in the film would have to be relatable" followed by a huge smile. It's cute that he's still being coy about this.
Later, a fan mentioned the success of the Marvel movie and asked if this Superman would ever be in a Justice League movie. Synder's response:
We know Superman is the jewel in the DC crown. We want to get his house in order and then? Who knows what's possible.
Rumor was that this Superman was specifically not going to tie into that film, but, maybe things have changed after The Avengers and all that good stuff.
Check back soon for much more on Man of Steel, which opens June 14, 2013.