'Elysium' Video Blog: Neill Blomkamp's Matt Damon Sci-Fi Action Film Impresses [Comic-Con 2012]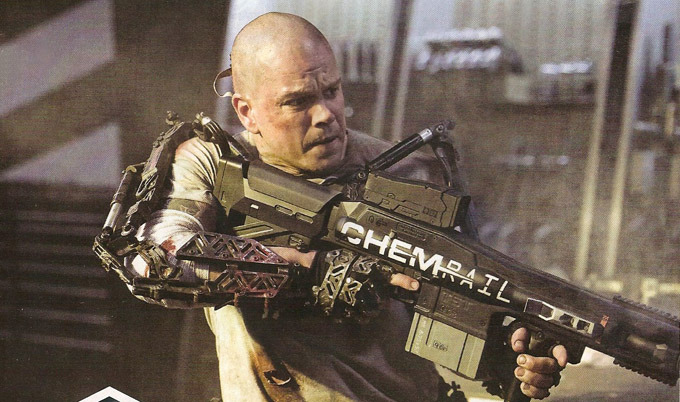 If you were a fan of Neill Blomkamp's District 9, your expectations for his follow-up, Elysium, might be particularly high. Those expectations are going to be shattered. The film stars Matt Damon as a blue-collar worker in a post apocalyptic future who is given five days to live. His only option to stay alive is get to Elysium, a space station utopia for the super-rich, run by Jodie Foster. Obviously, they don't want him there and things get a little awesome.
Blomkamp presented the first footage from the film in Hall H of San Diego Comic-Con 2012 on Friday. "I can now die a happy man having seen footage from Elysium. Think District 9 on an intergalactic scale. Pure wow" is what I tweeted. Russ said "Elysium footage looks like the real continuation of the Paul Verhoeven sci-fi approach. Matt Damon looks wild. It all looks nuts." And Peter simply said "Elysium footage wins Comic-Con 2012 (thus far)."
After the jump, watch a video blog of us describing and discussing the footage, as well as Rian Johnson's Looper and Len Wiseman's Total Recall.
Here's the video blog for Elysium.
Elysium opens March 1, 2013. Here's a plot description:
In the year 2159, two classes of people exist: the very wealthy "Coordinators," people who can afford bio-genetical engineering, who live on Elysium, a pristine man-made space station built by the Armadyne Corporation; and the rest, who live on an overpopulated, ruined Earth. Secretary Rhodes, a hard government of?cial, will stop at nothing to enforce anti-immigration laws and preserve the luxurious lifestyle of the citizens of Elysium. That doesn't stop the people of Earth from trying to get in, by any means they can. When unlucky ex-con Max is backed into a corner, he agrees to take on a daunting mission that if successful will not only save his life, but could bring equality to these polarized worlds.