'Game Of Thrones' Announces Casting And Return Date For Season 3 [Comic-Con 2012]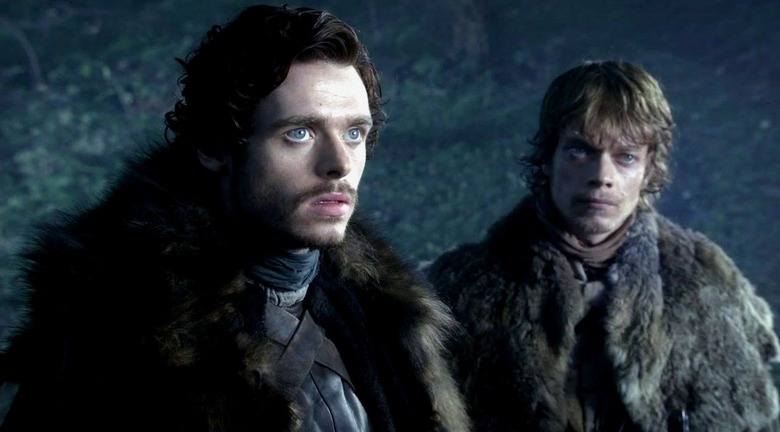 After drawing enough fans to fill Ballroom 20 to the rafters and then some at last year's Comic-Con, HBO's Game of Thrones was upgraded this year to the massive Hall H — and still had no trouble whatsoever attracting lines out the door (and down the sidewalk, and behind the Hilton, and all the way out to the water).
Beloved author George R. R. Martin served as moderator for the panel, which was attended by producer Carolyn Strauss and stars Michelle Fairley (Catelyn Tully), Richard Madden (Robb Stark), Alfie Allen (Theon Greyjoy), Rose Leslie (Ygritte), and Emilia Clarke (Daenerys Targaryen). Fans who were able to get in got to be the first to learn about some new casting for key characters like Brynden Tully, Olenna Redwyne, and Jojen Reed, as well as the confirmed return date for Season 3. Hit the jump to get the details.
Clive Russell will play Brynden "The Blackfish" Tully, uncle of Catelyn Tully
Tobias Menzies will play Edmure Tully, brother of Catelyn Tully
Diana Rigg will play Olenna Redwyne, "The Queen of Thorns"
Anton Lesser will play Qyburn, a former maester
Nathalie Emmanuel will play Missandei, a slave
Mackenzie Crook will play Orell, a wildling
Kristofer Hivju will play Tormund Giantsbane, a wildling
Kerry Ingram will play Shireen Baratheon, daughter of Stannis Baratheon
Tara Fitzgerald will play Selyse Baratheon, wife of Stannis Baratheon
Thomas Brodie-Sangster will play Jojen Reed, brother of Meera Reed
Ellie Kendrick will play Meera Reed, sister of Jojen Reed
Richard Dormer will play Beric Dondarrion, leader of the Brotherhood Without Banners
Paul Kaye will play Thoros of Myr, a member of the Brotherhood Without Banners
Philip McGinley will play Anguy, a member of the Brotherhood Without Banners
Or, if you'd prefer the info in video form, so as to get better acquainted with them, you can watch some of the newcomers introduce themselves below:
[via TV Line]
As for when you'll actually get to see these folks in character, HBO also announced at the panel that Game of Thrones was set to return March 31, 2013. Mark your calendars!