'Oz: The Great And Powerful' Trailer And Panel [Comic-Con 2012]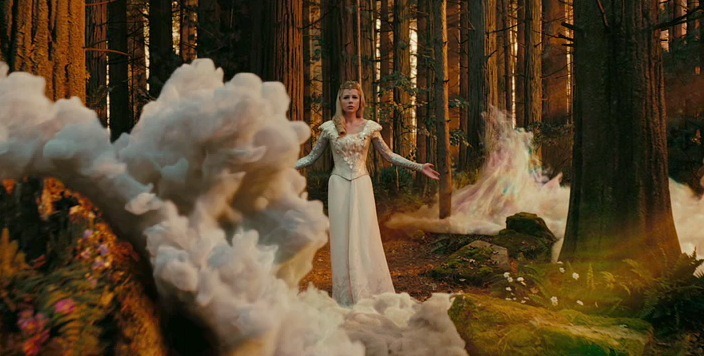 Hall H never has any shortage of cool reveals, and this year's Disney panel definitely delivered on that front. Among the treats they had to offer was the very first trailer for Sam Raimi's Oz: The Great and Powerful, a prequel to L. Frank Baum's Wizard of Oz. While it's way too soon to judge the movie as a whole, I can say without hesitation that the footage so far looks utterly gorgeous.
The trailer showing was followed by a quick Q&A session featuring Raimi and two of his stars, Michelle Williams and Mila Kunis. Watch the new promo and read some choice quotes after the jump.
Ready?
Head to Apple.com for an HD version.
It's really a shame that we can't see it in 3D online, because Raimi makes great use of that third dimension. Based on what we saw, it looks like Oz will be a movie really worth the premium 3D ticket prices.
We've known for a while now that the film would be a prequel showing how the Wizard came to be, but Raimi offered us a little more insight on who the Wizard was in his pre-Oz life, and where his journey takes him. Here are some of the highlights:
Raimi on the protagonist played by James Franco:
He starts off as a carnival magician. He's pretty good magicial but he lacks a lot in social skills and human skills, and he has a good heart but he isn't in touch with it. He thinks the way to greatness is through fame and fortune, when it's about the sharing of his gifts and the selfless expression of his talents. When life becomes untenable in Kansas — he's been sleeping with this other woman, he's an adulterer, he's chased out of Kansas, he takes a balloon and gets swept up in a tornado. That's how he ends up in the land of Oz.
Kunis on the "magic" of walking on set:
Going into it, I thought it'd be all blue and green screen and it wasn't. The sets were built and they were tangible. Glinda's castle was there, Emerald City was there, the Whimsical Woods were there. It was magical going to work. [...] Walking into Glinda's castle was one of the most magical experiences of my life.
Raimi on where the story came from:
[Screenwriter] Mitchell Kapner took the Baum books and gathered different information from the second, third, and fourth Oz books that Baum had written about the character. He put them in chronological order and made up the rest based on his imagination. It nods lovingly toward the 1939 classic Wizard of Oz.
Raimi on why the ruby slippers won't make a cameo:
Those ruby slippers were really unique to the 1939 MGM classic. We didn't have the rights to use imagery or ideas that were originally from that picture, we had to base it on the book. So no, they don't make an apperance in this film.
Raimi on what inspired the film's visuals:
We wanted to create an absolutely unique look. There's so much great description by Baum in the books, that's where it started. [The look is] inspired by Baum, but seen through the eyes of [production designer] Robert Stromberg. [...] We wanted to make a completely original world, something that was never seen before, and 3D really helped with that. I think it nods its head to images that we're familiar with, but it tries to present an original experience to the audience.
Oz: The Great and Powerful opens March 8, 2013. Be sure to check out Germain's coverage of Wreck-It Ralph and Russ' of The Lone Ranger, also from the Disney panel, as well as our video recap of the panel as a whole.