'Elysium' Viral Marketing Promises A "Better Life" Away From Earth [Comic Con 2012]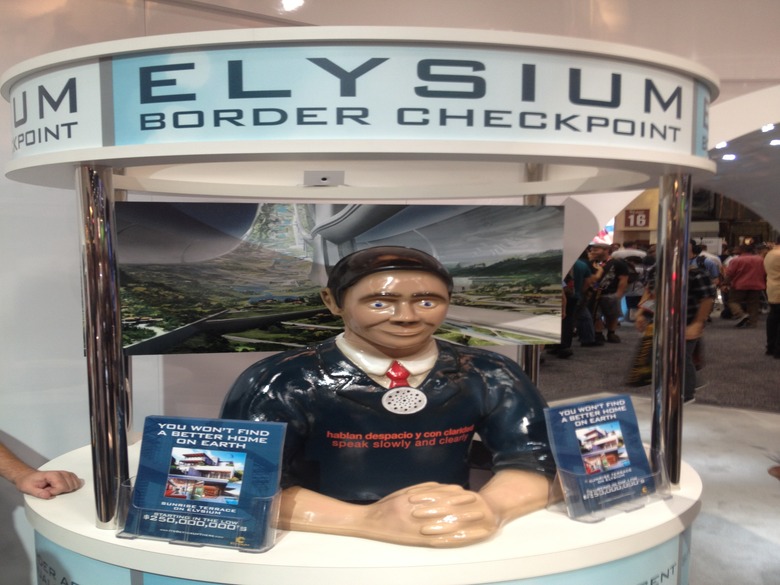 "Can't Find The Luxury You Deserve On Earth? Look No Further Than Elysium"
Sony's viral marketing campaign for District 9 helmer Neill Blomkamp's second feature film Elysium might have been the most interesting thing I encountered on the show floor on preview night at Comic Con 2012. They had an border checkpoint booth with a human-shaped automated system to find out if you qualify for homes on Elysium — a pristine man made spaceship oasis for the super rich. The film takes place 150-or-so years in the future where the Earth is overpopulated and ruined, and the rich live on this luxury space station protected by intense anti-immigration laws. The booth at Comic Con contained a bunch of photos of what your home on Elysium could look like, and flyers full of sales information. The flyer points to a website, itsbetterupthere.com, which allows you to apply to become a citizen of Elysium. We took photos of the booth and materials, and have included all the images after the jump for you to explore.
Elysium features Matt Damon, Jodie Foster, Sharlto Copley, Wagner Moura, William Fichtner, Sonia Braga, and Diego Luna. Here's the recently-released synopsis:
In the year 2159 two classes of people exist: the very wealthy who live on a pristine man-made space station called Elysium, and the rest, who live on an overpopulated, ruined Earth. Secretary Rhodes (Jodie Foster), a hard line government official, will stop at nothing to enforce anti-immigration laws and preserve the luxurious lifestyle of the citizens of Elysium. That doesn't stop the people of Earth from trying to get in, by any means they can. When unlucky Max (Matt Damon) is backed into a corner, he agrees to take on a daunting mission that if successful will not only save his life, but could bring equality to these polarized worlds.
Elysium is due out on March 1st, 2013.